Athens English Comedy Club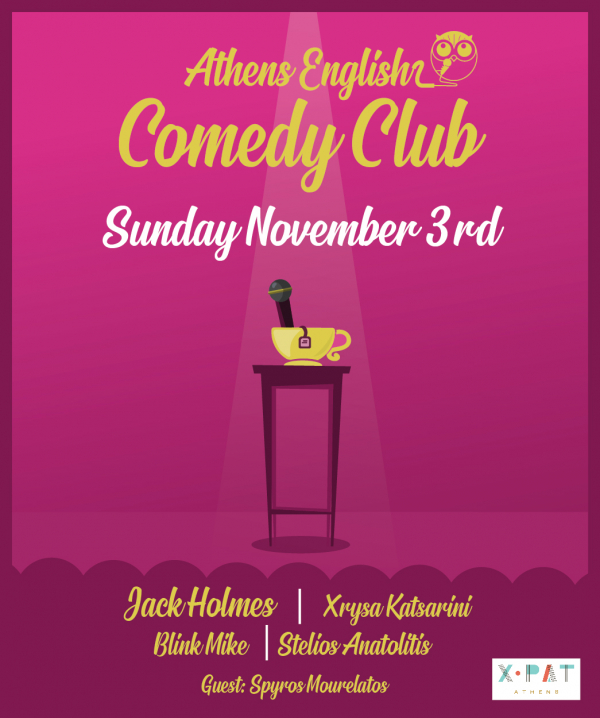 The first, and only, purely English comedy club in Greece is a reality!
Is the Athens comedy scene "all Greek" to you? Are you Greek and want to flex your English speaking muscles before the next tourist season? Do you want to try your hand at stand up in English? We are here for YOU!
The Athens English Comedy Club brings you visiting international comedians and local acts every first Sunday of the month, right in the heart of Athens.
After a buzzing first two months, the Athens English Comedy Club returns on the first Sunday of November with Jack Holmes, Blink Mike, Stelios Anatolitis, Xrysa Katsarini, and Spyros Mourelatos!
Jack Holmes
is a British comedian based in Vienna, and is known for his quick wit and sharp tongue. He has sold out shows everywhere from Russia to Egypt, appearing at major festivals and opening for some of the most respected comedians in the world. Equal parts honest, vicious, and playful, his act mixes brutal self-deprecation with bewilderment and frustration at the world around him, creating a show every bit as heartwarming and endearing as it is gut-wrenchingly hilarious.
Blink Mike
has been performing stand-up since 2013 and stands out for his creative and sharp jokes. In 2013 and 2014 he took part in the Stand Up Comedy Festival competition where he won 2nd and 1st place respectively, while in 2018 he made it to the final of the nationally aired TV programme "Greece Has Got Talent". His first solo show "Technically Forbidden" completed its first country-wide tour this year.
Stelios Anatolitis
is a stand-up comedian and improviser. He is a co-founder of "Maieftirio Comedy Club"; Thessaloniki's first and only comedy club, and the "House of Improv" school in Athens. His first stand up comedy solo show "Battles with Fairies" was aired on YouTube and Bandcamp this year, while his first book "Koalemos: Quicksand" was published earlier this year, sold out, and is currently being printed for a 2nd edition. Stelios is also a member of the 'Science+Comedy' troupe as a science communicator specializing in chemistry.
Spyros Mourelatos
is a new and promising addition to the Greek stand up comedy scene, having officially began performing stand-up in 2018. He is a member of the comedy troupe "Pani me Pani", while he has previously performed in English at the "Zero to Gyro" English comedy night at Eliart Theater which took place earlier this year.
Xrysa Katsarini
is a central figure of the Greek stand up comedy scene, and has just returned from her first European tour. Her first solo show "My Precious" was posted on YouTube this July, after touring 40 cities in Greece.
Come and laugh! Nay! Come and chortle. Or better yet, guffaw!
Time:
21:15 (Doors open at 20:30)
Duration
: 80 mins without interval
Where
: Eliart Theater, Konstantinoupoleos 127 (Kerameikos metro station)
The theater is wheelchair accessible
Reservations:
6987994689 //
athensenglishcomedyclub@gmail.com


---
XpatAthens is proud to be a Media Sponsor of The Athens English Comedy Club

---
EVENT INFO
When

:

03 Nov 2019

Time

:

21:15 - 21:15

Where

:

Eliart Theater, Konstantinoupoleos 127 (Kerameikos metro station)

Price

:

€15 // €12

Title:

Athens English Comedy Club

Contact Number:

6987994689