Music Concert At The Acropolis Museum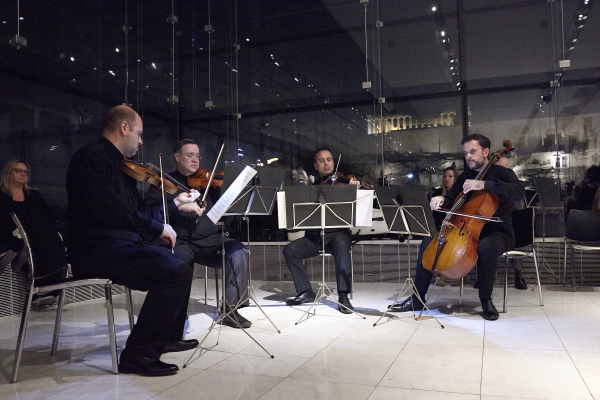 On Thursday 31 October 2019, at 6 p.m., the Acropolis Museum will celebrate the end of summer season with a chamber music concert in the Parthenon Gallery by the renowned and awarded Athens String Quartet of the Athens State Orchestra.
Music program:

- Ludwig Van Beethiven (1770-1827), String Quartet No. 1 in F minor, Op. 18, No 1.
- Aantonin Dvorak(1841-1904), String Quartet No. 12 in F minor, Op. 96
Participation:

Apollo Grammatikopoulos (violin), Panayiotis Tziotis (violin), Paris Anastasiadis (viola), Isidoros Sideris (cello).


Information

- For visitor access to the music concert at the Parthenon Gallery, free entrance tickets will be available at the Museum's Ticket Desk from 5:30 p.m. onwards.

- With free entrance tickets, visitors will be able to stroll through the Parthenon Gallery from 5:30 p.m. until Museum's closing time (8 p.m.).

The Museum's winter season starts on Friday 1 November 2019 with a more affordable general admission fee (5 euro), allowing even more persons to visit the Museum.