Irish Stand-up Comedy Live In Athens 2019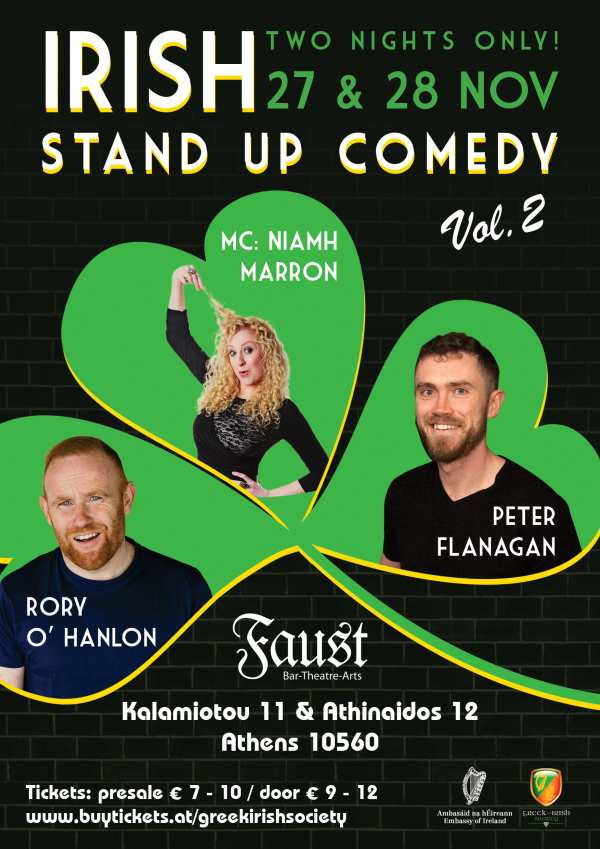 Following the popularity of last year's show, we are delighted to bring Irish Stand Up Comedy (Vol. 2) to Athens in November 2019. This year to make it even better you can catch the show in one of the best venues in Athens on one of two nights (Wednesday 27 Nov and Thursday 28 Nov).

Not to be missed, two of Ireland's biggest-named, London-based comedians Rory O'Hanlon and Peter Flanagan will be coming to Athens to perform. And we're sure people who saw the show last year will be delighted to know that Niamh Marron will return to MC and perform some of her new material.

Having started his career in Dublin, award-winning Irish stand-up comedian and actor Rory O' Hanlon is a firm favourite at comedy clubs across the UK and Ireland. A regular face on Irish TV, Rory has been seen on RTE's New Comedy Awards, Republic of Telly and alongside Des Bishop in Under the Influence. Described by Chortle as having "presence, poise and timing" and by the Irish Times as having "a joke every 30 seconds", his rapid-fire delivery regularly has audiences crying with laughter.

Peter Flanagan is an Irish comedian and writer based in London. His sharp joke writing and hilarious storytelling has brought him to top comedy clubs around the world, from the Perth International Comedy Festival (Australia) to London's Comedy Store. Big-name reviewers Chortle and The Laughter Lounge have described him as "Robust, amiable… high laugh count" and "a natural...definitely one to watch!".

Niamh Marron is a multi-award-winning comedian. She has appeared on BBC, Sky Arts and RTE and has performed at the SEC Arena (in front of 4,000 people), the Olympia Theatre and Ulster Hall in Ireland as well as at the Garrick Theatre in London. Hotpress Magazine describe her as "Consistently excellent, a live wire" and the CO Club noted that "She made most people cry with laughter & scared the hell out of the rest."

Tickets: €7 - €10 in advance and €9 - €12 on the door (depending on availability)

The event is organised by the Greek Irish Society and is supported by the Embassy of Ireland.

This is going to be another good one so we strongly recommend advance booking to avoid disappointment.
EVENT INFO
When

:

27 Nov 2019 - 28 Nov 2019

Time

:

21:00 - 23:00

Where

:

Faust

Price

:

€7 / €12

Title:

Irish Stand-up Comedy Live In Athens 2019

Email:

greekirishsociety@gmail.com

Contact Number:

6985158493