The Witches Of Smyrna - Pallas Theater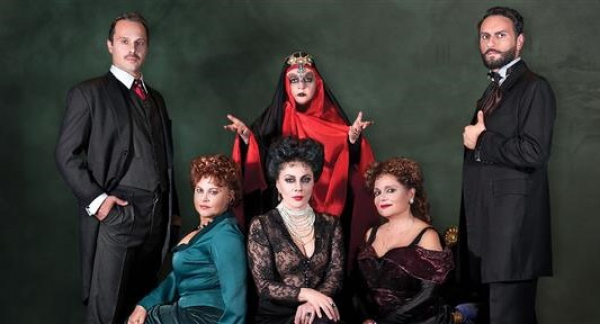 Theatrikes Skines presents the much-anticipated theatrical extravaganza The Witches of Smyrna by Mara Meimaridi, adapted for the stage and directed by Stamatis Fasoulis, with an all-star cast and production team.


A production which is expected to prove a landmark on the Athenian theatre scene, it sold an unprecedented 20,000 tickets before it even opened.


Mara Meimaridi's multiple-award-winning atmospheric novel, which captivated a million readers worldwide and received rave reviews when it was transferred to the small screen by Kostas Koutsomytis in 2005, has now come to the Pallas stage, ready to transport theatre-lovers back to late 19th-century Smyrna for a tale of passion, magic, spells, perfumes and love affairs.


Stamatis Fasoulis captures the atmosphere of an incomparable era, taking us back 130 years to the coast of Asia Minor and bringing to life a unique community and its social structures—a multicultural society that would serve as a model for generations born long after its demise.


The production stars Maria Kavogianni in the role of Evtalia, Smaragda Karydi in the role of Katina, who enchants Memos Begnis and Meletis Ilias—the brothers Konstantinos and Syrios Karamanos.


In the role of the witch Attarti, Madame Mirka Papaconstantinou.


The stage designer Athanasia Smaragdi created a small city on the Pallas stage for the production, giving physical presence to collective memory, while Deny Vachlioti conveys the essence of the characters and their stories through her costumes. The incidental music, which was written for the production by Thodoris Economou, spirits us back to Smyrna, its clubs and celebrated fin de siècle cafés: the 'Ke' and the 'Café du Paris'. Dimitris Papazoglou oversaw the production's choreography.


Smyrna, 1887. Katina is poor, quick-witted and ruthless. Her life changes when she meets Attarti, a Turkish witch who takes the girl under her wing. Which is when Katina sets herself a goal: rising just as high as she can in the city she calls home. Love potions, hexes, incantations and spells never miss their mark. She leads four men to the altar, each one better than the last and richer than his predecessor. And as she rises through the social ranks, Katina involved herself in her husbands' businesses, handling deals, banks and tobacco with great aplomb until, one day, she finds herself queen of all she surveys. A hundred years later, her writings, spells and magic resurface in a dusty trunk in her Aegina home.

For children over 15
With English subtitles
EVENT INFO
When

:

09 Jan 2019 - 28 Feb 2019

Where

:

Voukourestiou 5, Athens

Price

:

From 10.00€

Title:

The Witches Of Smyrna - Pallas Theater

Email:

pallas@a-th.gr