Donald Trump Is The Devil - Athens Festival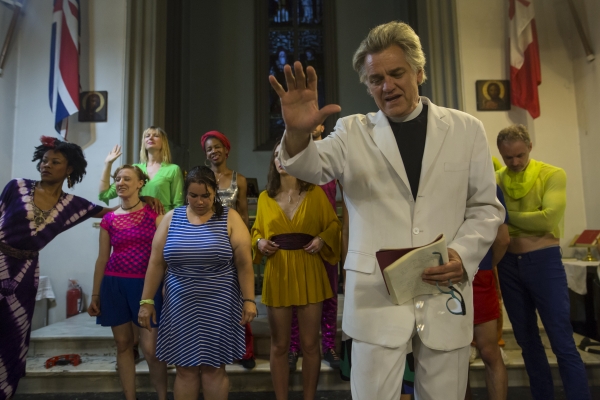 Reverend Billy & the Stop Shopping Choir are Earth radicals from New York City. Since Trump's election, they have sung their anthems at Trump Tower in midtown Manhattan, and at the front doors of the federal immigration jail. The activists who sing "all the right songs in all the wrong places" have been arrested nine times.


The Stop Shoppers sing Handel's Messiah, chanting "Earthalujah! Earthalujah!" and making right-wing Christians angry. Reverend Billy is a satirical version of the evangelicals who support Trump. However, this 'church' counsels progressives that humour and music and the spirit of the Earth are as important for effective activism as policies or theory. Stop Shopping! Start Living!


Under the direction of Savitri D, this theatre company's recent engagements include the Public Theater in New York and Toynbee Hall in London. But their greatest honour was to be the "church choir" at Occupy Wall Street. During their stay in Athens they hope to meet local activists. The roof-rattling joy of the 20-person troupe promises to energize activists for this dangerous time we are going through
EVENT INFO
When

:

12 Jul 2018 - 13 Jul 2018

Time

:

19:00 - 00:00

Where

:

Syntagma Square, Athens

Price

:

Free

Title:

Donald Trump Is The Devil - Athens Festival

Contact Number:

+30 210 9282900