Full Moon Fiesta In Technopolis: A Summer Date With Katerine Duska & Minor Project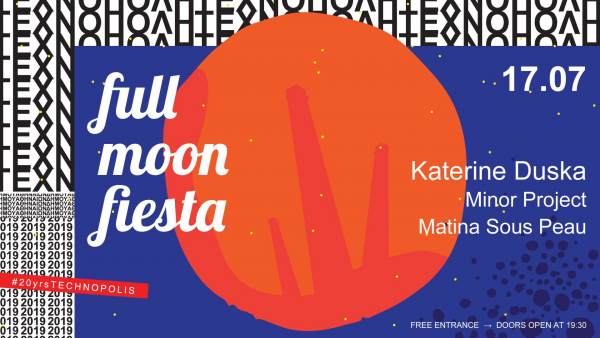 A summer date with Katerine Duska and Minor Project at Technopolis
Are you looking for a place to view the full moon from? Look no further! Full Moon Fiesta, the summer festival that has become something of an institution, is coming for the 4th consecutive year at Technopolis City of Athens. Prepare yourselves for a date under the full moonlight! Right before our summer vacation, on a working day, we set off on a fantastic journey and plunge into the most entertaining party of the city. On Wednesday, 17 July 2019, Katerine Duska, Minor Project, and Matina Sous Peau are coming with a batch of fresh sounds and dance songs to keep us cool in the heat of the summer and travel us to exotic destinations for a while...And guess what! We won't be even needing a ticket!
Line up:
20:00 | Matina Sous Peau Dj set
21:15 | Minor Project
22:30 | Katerine Duska



A few months after her participation in the Eurovision song contest, Katerine Duska, who drew all eyes to her and won the hearts of us all, will appear on stage for the first time at this big summer festival, for a long-awaited live performance! The full moon sky and the girl with the "One in a million"voice, the ultimate soulful timbre, and the radio hit "Better Love" are expected to cause nothing less than a stir at Technopolis on the night of July 17. Set to take us on an ethereal musical journey to remember, the Greek-Canadian singer and songwriter, who has some enviable collaborations with internationally acclaimed artists under her belt, including LP, Tom Baxter, Yasmine Hamdan, Oddisee, and Kadebostany, will perform her own songs as well as popular and favourite cover versions. Technopolis' illuminated chimneys and the perfectly round moon seem to be –and most definitely will be– the perfect setting!

Earlier the same night, the band Minor Project with its indie-oriented crossover repertoire consisting of songs with both English and Greek lyrics will add to the amazing musical combo of the Full Moon Fiesta. Minor Project's songs give off a nostalgic cinematic vibe that brings summer images and carefree days to mind. All of us got the tune of the dreamy "In Colors" stuck in our heads at some point, thus explaining why it remained in the top 3 on the Shazam and itunesGR charts for so long! The band has teamed up with many distinguished artists and takes us on a trip out on the sea with songs such as "Ekdromi", the result of a special collaboration with Dimitra Galani, and "From Folegandros to Kos". Minor Project have become a firm favourite with radio listeners and audiences who have seen them perform live and they will be joining us this summer night at Technopolis to talk to us about our very favourite colors and unexpected journeys.

The fiesta will open with a super groovy dj set by Matina Sous Peau who returns to Technopolis after the unforgettable Let's be late! dance event that took place in March at the Industrial Gas Museum. She promises once again to get us singing and moving along her creative mashups and our beloved dance hits. The DJ/music producer, who has managed to win over the Greek audience at jam-packed parties taking place across Athens, could not be absent from the ultimate summer event! Sweet summer vibes, full moon, music, your friends, and... a super festive mood are waiting for you at the Full Moon Fiesta! Unless you are already on an island, you can't miss it!



---
Full Moon Fiesta In Technopolis

---
#FullMoonFiesta #ΜουσικήΤεχνόπολη #20yrsTECHNOPOLIS

Access:
Metro: "Kerameikos" station, Trolley-Bus: No. 21 (from Omonia square),

"Fotaerio" stop, Bus: 049, 815, 838, 914, Β18, Γ18, "Fotaerio" stop
EVENT INFO
When

:

17 Jul 2019

Time

:

19:30 - 19:30

Where

:

Technopolis - Gazi

Price

:

Free

Title:

Full Moon Fiesta In Technopolis: A Summer Date With Katerine Duska & Minor Project

Email:

info@athens-technopolis.gr

Contact Number:

213-0109300