Super Bowl Final @ Hard Rock Cafe Athens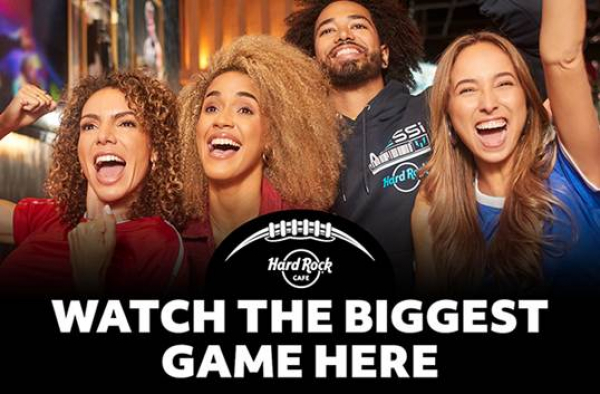 Hard Rock Cafe® Athens invites guests to experience the ultimate tailgate viewing experience from the comfort of their nearest Hard Rock Cafe. Available on Sunday February 12th, the tailgate menu is ready for the kick-off of The Big Game.
From classic Buffalo wings to signature sliders, nachos and beyond, fans and friends will want to cheer for their team or simply enjoy the Big Game at Hard Rock Cafe Athens. The limited-time Tailgate menu is available for game day only, so fans are encouraged to make their plans in advance.


The Starting Line-Up for the Tailgate Menu Includes:
Classic Nachos: Crisp tortilla chips layered with ranch-style beans and a four-cheese sauce blend, topped with fresh Pico de Gallo, spicy jalapenos, pickled red onions, melted cheddar, Monterey Jack cheese and scallions, served with sour cream on the side
Wings: Hard Rock Cafe's signature slow-roasted jumbo wings tossed with classic Buffalo or barbecue sauce, served with celery and blue cheese dressing
Baby Back Ribs Starter: ½ rack of Baby Back Ribs, served pre-cut in individual portions, perfect for sharing. Seasoned with Hard Rock Cafe's signature spice blend, then glazed with our house-made barbecue sauce and grilled to perfection
All American Sliders: Three mini-burgers with melted American cheese, crispy onion ring and creamy coleslaw on a toasted brioche bun
Buffalo-Style Sliders: Three mini-burgers with crispy onion ring, classic Buffalo sauce and bleu cheese dressing on a toasted brioche bun
Tupelo Chicken Tenders: Crispy chicken tenders served with honey mustard and our house-made barbecue sauce
Onion Ring Tower: Hard Rock Cafe's signature crispy onion rings perfectly seasoned and served with barbecue and ranch sauce
Cheese Fries: Hard Rock Cafe's signature, crispy fries layered with cheese sauce, smoked bacon and sprinkled with green onions, served with a side of ranch for dipping
Crack Open a Cold One with these Must Have Drink Deals
5 Bottled FIX Beers for €19.95
25 Bottled FIX Beers for €84.95
Whether your team made it to the championship, or you're just planning to enjoy the Half Time show this year, Hard Rock Cafe Athens wants to be part of the memories you make as you watch The Big Game in 2023. Make your reservation 2103245170
EVENT INFO
When

:

12 Feb 2023

Where

:

Adrianou 52 Athens

Title:

Super Bowl Final @ Hard Rock Cafe Athens