Ancient Food & Wine Tasting At The Acropolis Museum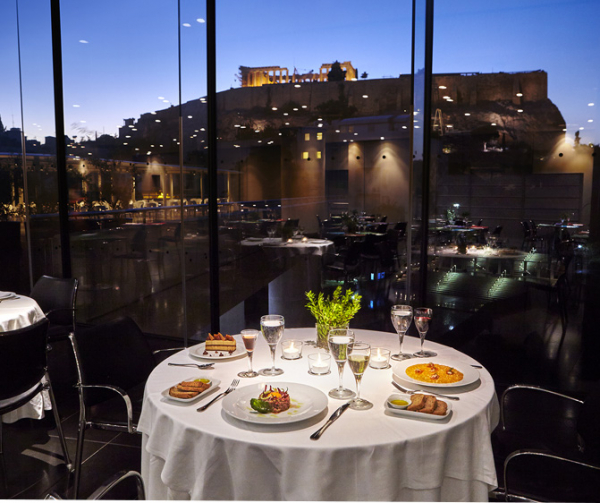 Wine, the gift of Dionysus! What was the relationship of the ancient Athenians with wine? How did they drink it and what did they accompany it with? But more generally, what did their diet include? Which products were local and which were imported? And what role did they play in the religious life of the city?
These and many other questions are answered by the archaeologists of the Acropolis Museum in an out-of-the-ordinary tour of its collections. A unique experience that is completed in the restaurant on the second floor with views of the Acropolis, with a meal prepared especially for the occasion accompanied by wine tasting with the support of the "Vivlia Chora" Winery.
Menu:

- Zucchini patties with fresh herbs, light tzatziki and grilled ''Florinis'' red peppers sauce.
- Greek salad with cherry tomatoes in cucumber nest, feta cheese mousse on carob crumble.
- Fresh cod in the oven with ''sofegada'' style seasonal greens stew, potatoes and Mediterranean fish sauce with tomato.
- Traditional ''ravani'', coconut, yoghurt mousse and sour cherry spoon sweet.
- Wine served by the "Vivlia Chora" Winery.
Date & time:
Thursday 12/5, tour on ancient diet (7pm-8pm), tasting at the restaurant (8pm-10pm)
The event is held on the occasion of the "This is Athens City Festival" of the Municipality of Athens.
EVENT INFO
When

:

12 May 2022

Where

:

The Acropolis Museum Dionysiou, Areopagitou 15

Price

:

47.00€ per person

Title:

Ancient Food & Wine Tasting At The Acropolis Museum

Contact Number:

2109000915