Let Us Do The Cooking - Brunch Edition By Hotel GB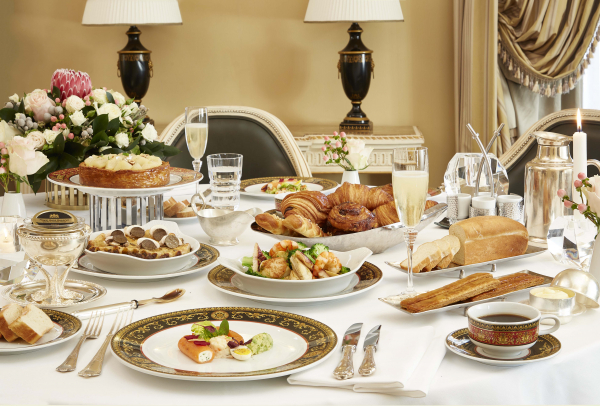 "Let Us Do The Cooking" service by Hotel Grande Bretagne continues to be available!

Eager to please you more, Executive Chef Asterios Koustoudis and Pastry Chef Evgenios Vardakastanis with their epicurean Team present a new menu for the ultimate brunch experience at home, inspired by the famous Weekends at the Winter Garden.

The finest sweet & savor delicacies and handmade pastries compose another unforgettable culinary experience! The menu includes a variety of freshly baked croissants, traditional mastiha scented 'tsoureki', brioche and caramelized puff pastry 'baton' served with fresh local butter, pine honey and homemade forest fruit marmalade. The experience goes on with a unique appetizer of smoked salmon and 'balik' with avocado, quail egg, king crab and crisp green salad. For main course, the 'candele' pasta filled with slow cooked beef, mushrooms, winter truffle gratinated with Cretan 'graviera' cheese and the seafood –shrimp and scallops- with fennel and spinach, citrus and grill-smoked eel will carry you away. A delicious pear tart with almond cream, hazelnut praline and lemon seals the sweetest epilogue of your family brunch. While opening the boxes, you will find an exquisite menu for four people uniquely presented in ovenproof porcelain tableware, which will enrich your home collection, as well as the authentic white linen napkin embroidered with the crest of the historic hotel.

To fascinate even the most discerning palates, Chef introduces the Caviar & Champagne Brunch featuring the exclusivity of a TAITTINGER BRUT 750ml and a ROYAL GOLD RESERVE CAVIAR 30gr.

Hotel Grande Bretagne promises to deliver exquisite flavors and aromas at home creating for you the most elegant brunch.


ORDERS | DAILY 11.00-19.00 at 210 33 30 748