Special Limited Time Cocktails At Hard Rock Cafe Athens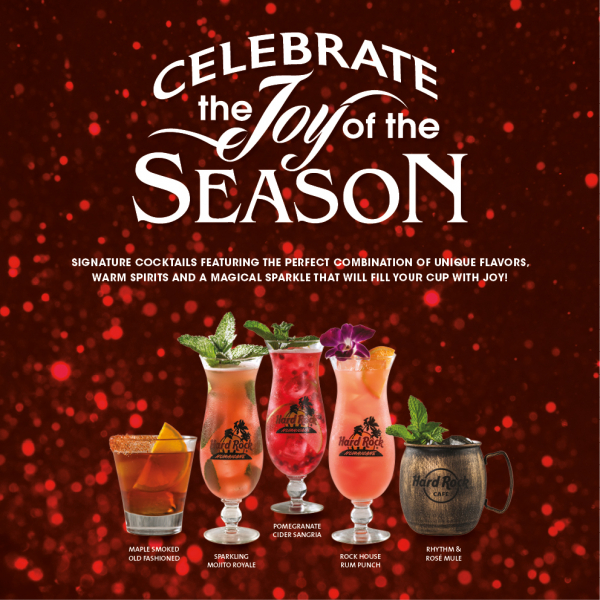 Signature cocktails featuring the perfect combination of unique flavours, warm spirits and a magical sparkle that will fill your cup with Joy!
Available only until February the 26th.
POMEGRANATE CIDER SANGRIA:
Bacardi Superior Rum, cranberry juice,
green apples, fresh pomegranate, a hint of brown sugar finished with crisp apple cider.
ROCK HOUSE RUM PUNCH:
Bacardi Superior Light Rum,
Bacardi Dark Rum and our signature blend of tropical juices topped
with sparkling Fever-Tree Ginger Beer and an edible flower.
SPARKLING MOJITO ROYALE
: Bacardi Superior Rum, the fresh
flavours of guava, mint and lime topped with a bubbly Prosecco float
RHYTHM & ROSÉ MULE:
Absolut Vodka, rosé wine, refreshing flavours of passion fruit,
green tea and lime finished with Fever-Tree Ginger Beer,
served in our signature Mule Mug
MAPLE SMOKED OLD FASHIONED:
Jameson Caskmates IPA, smoked maple syrup,
Angostura Bitters finished with a sweet and savory rim
#ThisIsHardRock #Cocktails
EVENT INFO
When

:

14 Jan 2019 - 26 Feb 2019

Time

:

19:45 - 23:30

Where

:

Hard Rock Cafe Athens

Price

:

set prices

Title:

Special Limited Time Cocktails At Hard Rock Cafe Athens

Contact Number:

210 3245170