Circular Economy | Info Session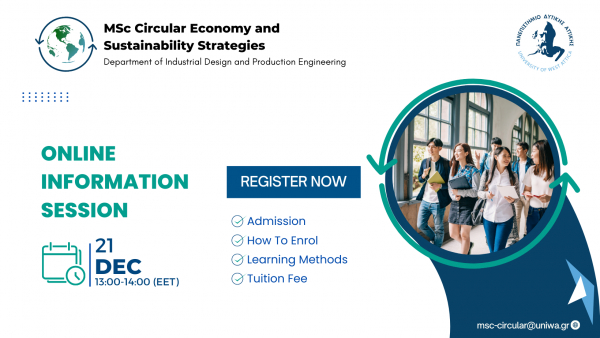 🔔 SAVE THE DATE | 21/12, 13:00-14:00 🔔

The Industrial Design and Production Engineering Department at the University of West Attica would like to invite you to the MSC Online Information Session on Circular Economy and Sustainable Strategies.
🎯 Join our online information session on the 21st of December from 13:00–14:00 (EET) to discover more about the MSc Circular Economy and Sustainability Strategies.
The purpose of the information session for the MSc is to present you with a general summary of the Master's program.
💡 Why attend this event?
📌 Discover the MSc programme's curriculum and how it might suit your career objectives.
📌 Understand the application process, including procedures and deadlines.
📌 An interactive Q&A will be held during the session, where your questions will be answered in real-time.
This event will take place via MS Teams. Please book your space via our registration form to receive joining instructions.
Register here:
https://lnkd.in/dUKMYPiR

Read more about the MSc programme here:
https://lnkd.in/dGuyX84p
EVENT INFO
When

:

21 Dec 2022 - 21 Dec 2022

Time

:

13:00 - 14:00

Where

:

Online

Price

:

Free

Title:

Circular Economy | Info Session

Email:

gabriela@kinitro.org

Contact Number:

+306942574831

Website:

lnkd.in/dGuyX84p