Athens English Comedy Club - Sunday, October 8th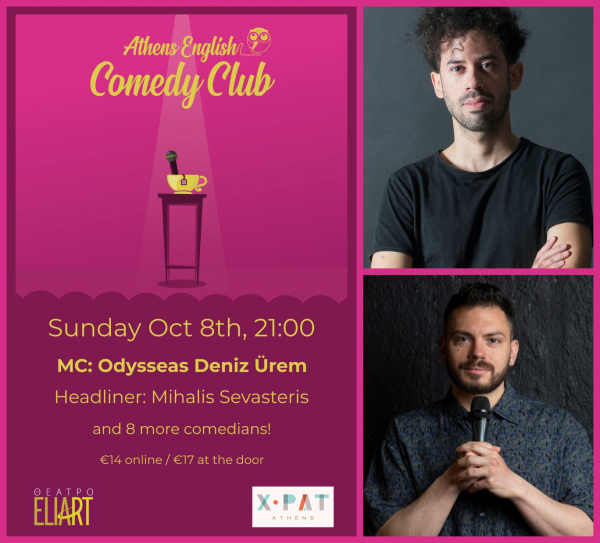 MC: Odysseas Deniz Ürem, Headliner: Mihalis Sevasteris
And: Christian Siapantas, Dominik Sits, Giorgos Christofides, Jim Botsas, Kinthia, Mikey Mileos, Stavroula Pabst, Theodora Kanellopoulou
Founded in 2019, the Athens English Comedy Club is the first, and only, purely English comedy club in Greece - bringing you local and international comedians, right in the heart of Athens - and it just turned FOUR!
In the last 4 years, the Athens English Comedy Club has hosted lineup shows, open mic shows, online competitions, and comedy workshops, with *109* local and international comedians from *24 countries*.
UPCOMING SHOW: Sunday October 8th
It'll be a mix of everything. A potluck of comedy. Colourful, comedic, chaos! Experienced and new comedians trying out their best new jokes. Some of them will be good, some of them will be great, and some will never see the light of day again. It's up to you!
* * * * * * * * * * * * * * * * * * * * * * * * * * * * * * * * * * * * * * * * * * * * *
About the MC:
Odysseas Deniz Ürem is a stand-up comedian based in Athens. He performs regularly in both English and Greek, and has gigged at Losantzele and Mic Drop comedy clubs in Athens, as well as theater venues all around Greece. Odysseas' comedy revolves around subjects such as family, racism, death, sex, religion and among others it also consists of many surrealistic takes on everyday life.
Currently, Odysseas is one half of the (Greek) double-bill show "Two people telling jokes" ("Δύο που λένε αστεία") with comedian Alexandros Paspardanis at Calderone bar, which has been consistently sold out since November 2022. Aside from being an absolute comedic treasure chest, Odysseas was also one of the very first comedians to perform with us back in 2019 (literally, in our first ever show), and he's been killing it ever since.


About the headliner:
Mihalis Sevasteris is a comedian based in Athens and it is crucial that you know he is vegan. Some people describe him as a gambling robot with the sole purpose in life to get everyone to eat collard greens.
Mihalis' comedy covers anything from adventures of survival on public transport, to being constantly worried he'll get his bag stolen at coffee shops, to trying to confirm whether Jason Statham is in fact his uncle.
He presented his first solo show "I'm vegan ("Είμαι vegan"), in Greek, at Losantzele comedy club during the 2022-2023 season, before touring in multiple cities around Greece including Patra, Heraklion, Larissa, Thessaloniki, and more. This season he'll be presenting a "Best Of" selection of his work, at Losantzele again.
His restless demeanor (#NOT) and his immovable poker face will win you over no matter how difficult your week has been. Maybe enough to make you consider being vegan, who knows!


Date: Sunday, October 8th
Time: 21:00 (Doors open 20:40)
Tickets:
€14 general admission
€17 at the door
We also offer 3 free tickets per show to persons with disabilities or unemployed persons (email/phone reservation required).
Duration: 1h30 + interval
Recommended for ages 16+
Address: ELIART Theater - Konstantinoupoleos 127 (closest to Kerameikos and Metaxourgeio metro stations).
The theatre is wheelchair accessible.
Info: 6987994689 // athensenglishcomedyclub@gmail.com
Join us as we celebrate the beginning of our 5th trip around the sun!

Sign up to our newsletter for direct-to-email updates and exclusive ticket offers!: http://eepurl.com/it6PzQ
EVENT INFO
When

:

08 Oct 2023

Where

:

Eliart Theater

Price

:

€14 general admission €17 at the door

Title:

Athens English Comedy Club - Sunday, October 8th