Athens English Comedy Club - March 19th Show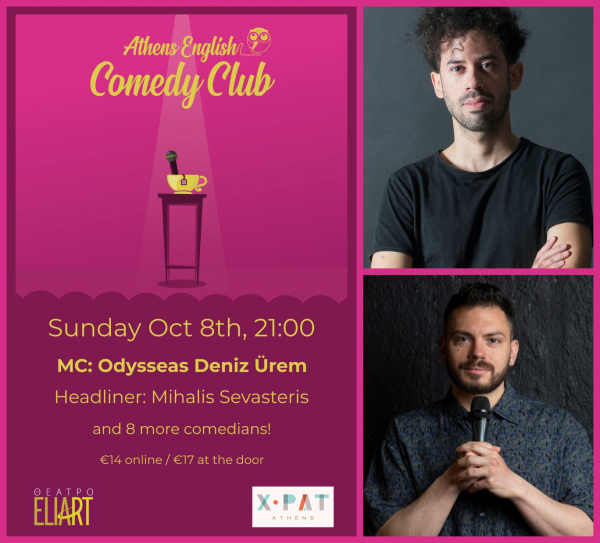 UPCOMING SHOWS
Sunday March 19th

MC: Odysseas Deniz Ürem

Headliner: Hannah Becker

It'll be a mix of everything. A potluck of comedy. ​Colourful, comedic, chaos.

Experienced and new comedians trying out their best new jokes. Some of them will be good, some of them will be great, and some will never see the light of day again. It's up to you!

Time: 21:00pm (Doors open 20:30)
Tickets: €12 early-bird til March 12th / €14 after March 12th / €17 at the door
Duration: 90mins (with interval)
Info: 6987994689 // athensenglishcomedyclub@gmail.com
Address: ELIART Theater - Konstantinoupoleos 127 (closest to Kerameikos and Metaxourgeio metro stations).
The theatre is wheelchair accessible.
We also offer 3 free tickets per show to persons with disabilities or unemployed persons (phone reservation required).
Please note that part of this Athens English Comedy Club show may be photographed and/or filmed. By purchasing a ticket, the audience consents to the above and accepts that any video footage or photos taken of the audience may be used by the production for commercial use.
* * * * * * * * * * * * * * * * * * * * * * * * * * * * * *

Founded in 2019, the Athens English Comedy Club is the first, and only, purely English comedy club in Greece - bringing you local and international comedians, right in the heart of Athens
Is the Athens comedy scene "all Greek" to you? Are you on the lookout for English language events which do not require you to read surtitles? Do you want to try your hand at stand up in English? We are here for YOU!


Keen to get involved and join us on stage? Follow us on Instagram and Facebook to stay up-to-date with open mic registrations!
Come and laugh! Nay! Come and chortle. Or better yet, guffaw!
EVENT INFO
When

:

19 Mar 2023

Where

:

Eliart Theater

Price

:

14€

Title:

Athens English Comedy Club - March 19th Show