Athens English Comedy Club - January 29th Show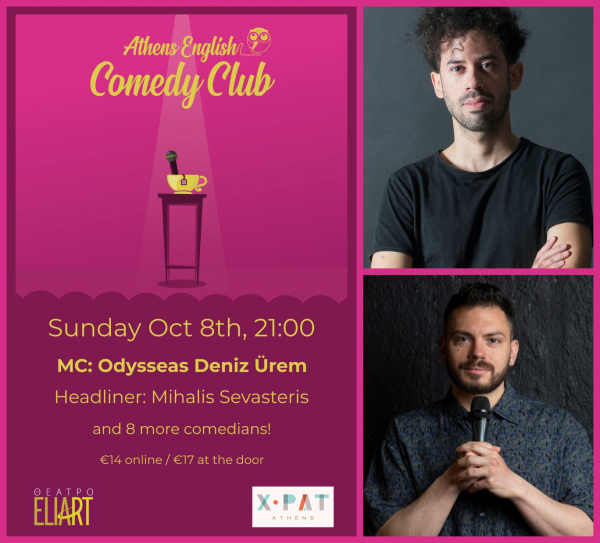 Sunday January 29th
It'll be a mix of everything. A potluck of comedy. ​Colourful, comedic, chaos.

Headliner: Mike Sheer
Experienced and new comedians trying out their best new jokes. Some of them will be good, some of them will be great, and some will never see the light of day again. It's up to you!


About The Headliner

Mike Sheer is a Canadian, London based, comedian, actor, and script coach, with over a decade of experience internationally, including appearances in Melbourne, Stockholm, Budapest, Belgrade, Bahrain, Muskoka, Manchester, and Manhattan.

Mike is the presenter & co-founder of EFN Short FIlm Festival - an annual week-long series of events showcasing top quality international short films and Q & As with their creators.
​If you are a cult-o-phile (our word, not his), you may also recognise him from his appearance in Harold & Kumar Get The Munchies.


Founded in 2019, the Athens English Comedy Club is the first, and only, purely English comedy club in Greece - bringing you local and international comedians, right in the heart of Athens
Is the Athens comedy scene "all Greek" to you? Are you on the lookout for English language events which do not require you to read surtitles? Do you want to try your hand at stand up in English? We are here for YOU!

* * * * * * * * * * * * * * * * * * * * * * * * * * * * * *

Keen to get involved and join us on stage? Follow us on Instagram and Facebook to stay up-to-date with open mic registrations!
Come and laugh! Nay! Come and chortle. Or better yet, guffaw!
EVENT INFO
When

:

29 Jan 2023

Where

:

Eliart Theater

Price

:

"€12 early-bird til January 22nd / €14 online as of January 23rd / €17 at the door

Title:

Athens English Comedy Club - January 29th Show