Pawsome - Your Best Friend's Playground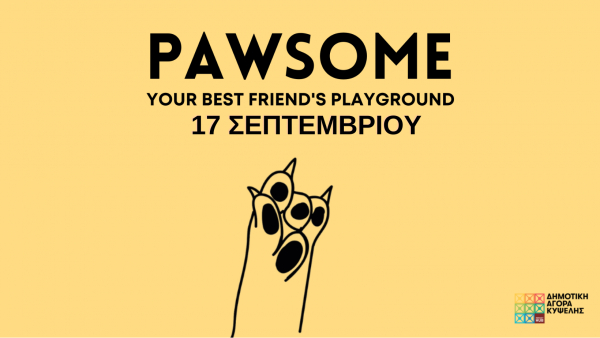 A brand new season by Impact Hub Athens in Kypseli, starts this Saturday, 17th of September from 12.00 to 21.00, with the Pawsome Festival, which will turn the Municipal Market's open space into a huge interactive playground for our four-legged friends.


The festival will be accompanied by music from Athens 9.84, and its radio show 'Like cats and dogs' which will be aired live for the first time from Agora. Pets and their owners will have the chance to find whatever they wish for. High-quality food from ΚΥΟΝ, but also organic unprocessed choices based on the BARF diet from Nature's Food. Delicacies, accessories and toys in Pawbox's indie boutique for cats and dogs, toiletries and grooming services from NanoSanitas.


Eugenia Samara and her colleagues will introduce us to
Your Pet App
, a Greek platform/app that offers help to animals in need, while the independent animal welfare group Adespota Exarcheia, will be in the Market's space along with their merch.
At the same time, useful advice for dog care and training will be given by specialists. The Pet Foodologist Stavrianna Manolakou, will be providing individual diet tips according to the needs of each dog separately. The experienced specialists of
Dog Society
will reveal secrets and innovative ways on how dogs can interact and adapt properly to their environment. Dogs Voice will entertain the audience with games and quizzes. During the afternoon hours between 18.00 to 19.30, the visitors will be able to take a walk with the excellently trained superheroes-guide dogs, of the school
Lara guide dogs
.
Of course, animal welfare organizations and facilities, like Animal City of Athens, Animal Welfare Association of Megara, και Animal Welfare of Elliniko- Argiroupoli, couldn't be missing from the event.


From 17.00 to 21.00, people and pets will have the chance to be photographed in the curated by Canon photo booth, by the lens of the dog-portrait photographer Olga Amoiridou with her project
The Dog Project
. The visitors will be able to print and get their instant photos for free, in Canon's expert printer.
Kypseli's hangout spot Morning Sweetie will be in the Market too, providing us with freshly ground coffee and pupcakes (edible by people and dogs) to share with our pets.

See you on Saturday, the 17th of September!





EVENT INFO
When

:

17 Sep 2022 - 17 Sep 2022

Time

:

12:00 - 21:00

Where

:

Fokionos Negri 42, Kypseli

Price

:

Free Entrance

Title:

Pawsome - Your Best Friend's Playground

Website:

agorakypselis.gr/pawsome/