Friends of Merimna – 6th "Summer Clothing Bazaar"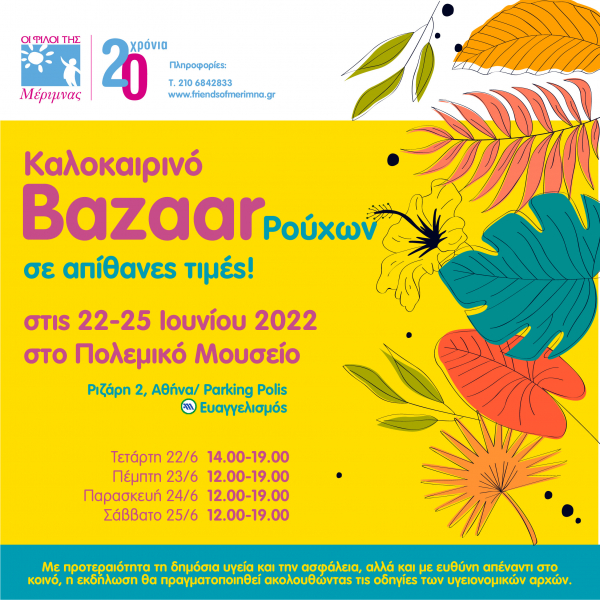 The Friends of Merimna – awaits you at the 6th Summer Clothing Bazaar for a celebration of contribution and love, that has become a successful annual event, with your support, and has the sole purpose of supporting the goals of the non-profit Association "Friends of Merimna"

Where: Athens War Museum, Rizari 2-4, Athens 10675
When: Wednesday, June 22nd 14:00-19:00 Thursday, June 23rdt 12:00-19:00 Friday, June 24th 12:00-19:00 Saturday June 25th 12:00-19:00

You will find great opportunities in men's and women's summer clothes, shoes, bags, jewelry, scarves and accessories, new and gently used, for all ages and all preferences. All of the items have been carefully selected by the Friends of Merimna's hardworking volunteers and are waiting for you, to put them to good use in your life, for a good cause.

There will be a wide variety of new and second-hand items from all styles and modern fashion trends. We promote recycling and choosing second-hand clothes and accessories, as the most ecological and ethical choice l in the field of fashion.

Funds gathered from the Bazaar will go to support "Merimna". All of Merimna's services are provided free of charge.
EVENT INFO
When

:

22 Jun 2022 - 25 Jun 2022

Time

:

12:00 - 19:00

Where

:

Athens War Museum, Rizari 2-4, Athens 10675

Price

:

Entry Free!

Title:

Friends of Merimna – 6th "Summer Clothing Bazaar"

Email:

info@friendsofmerimna.gr

Contact Number:

"Daily 9.30-17.00, Tel. 210 6842833, Fax 210 6452338

Website:

www.friendsofmerimna.gr