12th Athens Avant Garde Film Festival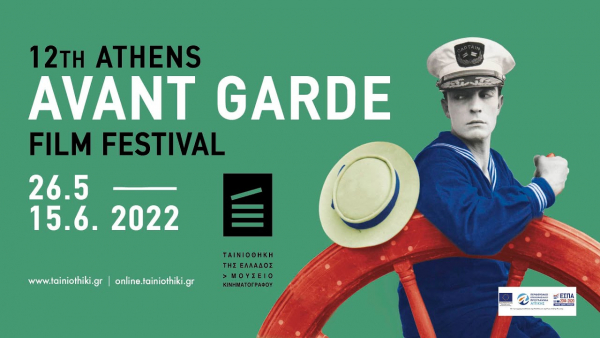 The Athens Avant Garde Film Festival, the Film Archive's favourite annual event has returned
once again, this time in hybrid form.
The festival has been organised with the funding of the Ministry of Culture and Sports and the NSRF Operational Programme, in collaboration with the Embassy of Portugal and the
Instituto Cam
õ
es
, the Embassy of France and the Institut Français, the Embassy of Lithuania and the Lithuanian Culture Institute, the Embassy of Italy and the
Istituto Italiano di Cultura di Atene
, the Department of Communication and Media Studies at the National and Kapodistrian University of Athens, the Technopolis of the Municipality of Athens and finally, the digital platform of ERT, ERTFLIX.


In view of this years exceptionally rich programme; which you will have the opportunity to observe from the 26th of May till the 15th of June, in all three venues of the Film Archive (Lais Open Air cinema, Venue A, Venue B)—110 films will be screened.
Meanwhile, select screening programmes will be available online at
online.tainiothiki.gr
.


The 12th AAGFF aspires to showcase cinema's freshest and most groundbreaking creative voices—of yesterday and today.

To learn more information about the event and the upcoming screenings click HERE!
EVENT INFO
When

:

26 May 2022 - 15 Jun 2022

Where

:

Various Locations

Title:

12th Athens Avant Garde Film Festival

Email:

contact@tainiothiki.gr