Climate Change - SNF Dialogues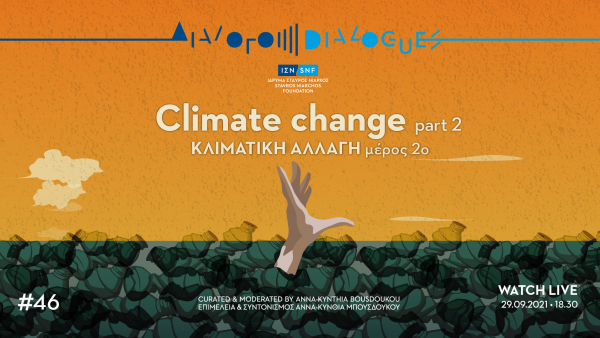 Following a summer dominated by extreme weather events worldwide and an inexpressible national environmental disaster in Greece, there's one question on everyone's minds: Is there time to reverse the destruction humans have brought on the planet, or are we heading towards an inevitable and irreversible global climate crisis? Scientists tell us we may still have a small window of opportunity to halt global warming—not for the years ahead, where warming is all but guaranteed—but for the decades after 2050. Will humanity immediately make the courageous decisions required, knowing that its sacrifices will benefit not the planet's current inhabitants, but the generations to come?

On Wednesday, September 29 at 18:30 (EET), the next SNF DIALOGUES event invites the public and representatives of the scientific community to a livestreamed open discussion about the future of humanity on a quickly warming planet.

Scientific data in a new report from the UN's Intergovernmental Panel on Climate Change, prepared by 234 scientists from 66 countries, confirm beyond any doubt that our planet is getting hotter and that human beings are the cause. The consequences of this reality are already apparent. This past summer saw the first-ever rainfall in Greenland and a temperature of 49.6 degrees Celsius (121 degrees Fahrenheit) in Canada. An unprecedented heatwave hit Siberia and mega-fires broke out in Greece, Italy, Turkey, and the United States while deadly floods plagued Europe and China.
Faced with a climate crisis that seems, to a large extent, unavoidable and irreversible, the challenge now is to explore how to adapt to a new reality where natural disasters occur with increasing frequency and how to take action for future generations.
EVENT INFO
When

:

29 Sep 2021

Time

:

18:30 - 18:30

Where

:

Online

Title:

Climate Change - SNF Dialogues