5th Summer Clothing Bazaar - Friends of Merimna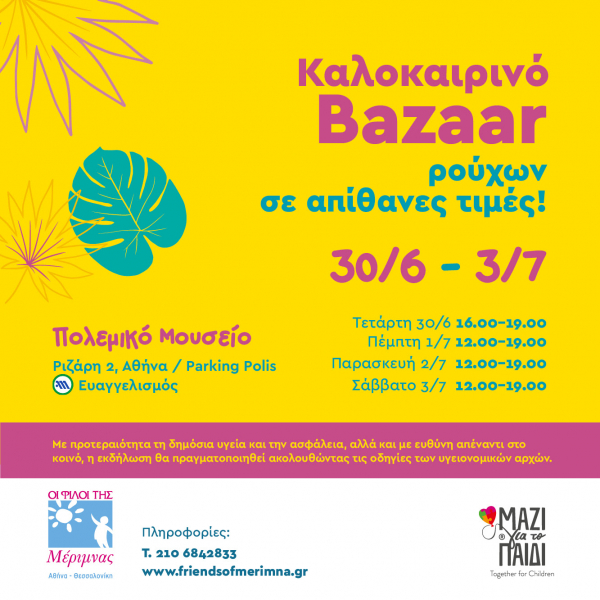 The Friends of Merimna – awaits you at the 5th Summer Clothing Bazaar for a celebration of contribution and love, that has become a successful annual event, with your support, and has the sole purpose of supporting the goals of the non-profit Association "Friends of Merimna"

- Wednesday, June 30th 16:00-19:00
- Thursday, July 1st 12:00-19:00
- Friday, July 2nd 12:00-19:00
- Saturday July 3rd 12:00-19:00

You will find great opportunities in men's and women's summer clothes, shoes, bags, jewelry, scarves and accessories, new and gently used, for all ages and all preferences.

All of the items have been carefully selected by the Friends of Merimna's hardworking volunteers and are waiting for you, to put them to good use in your life, for a good cause.

Funds gathered from the Bazaar will go to support "Merimna". All of Merimna's services are provided free of charge.

Merimna provides the following services, free of charge:

• Psychological bereavement support for children and adolescents
• Support for school communities after disasters or traumatic events
• Medical and psychosocial pediatric palliative homecare for seriously ill children and their families
• Ongoing education programs for psychologists, social workers, educators and health professionals.