Philosophical Walks In Ancient Athens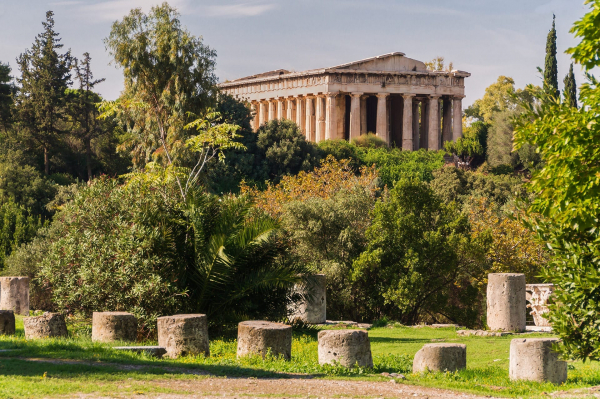 Athens is often called the cradle of philosophy and democracy. Even though historically both philosophy and democracy first emerged as concepts in the Greek cities of ancient Asia Minor it was in Athens where they flourished for over two centuries, where democratic institutions became philosophy in practice.
Here philosophy was exercised and taught in the free public space amongst equal citizens. Both philosophy and democracy openly questioned traditional norms and ideals in theory and in practice; through oration and dialogue, the urban landscape forged the Athenian way of life. Philosophy was initially taught and practiced in the ancient Agora but also, eventually, Schools were founded in the outskirts of the city.
Nowadays, the traces of that ancient city are still visible in modern Athens, and invite our imagination to a venture through history and theory that combines a visit at the physical spaces where the greatest philosophers taught with a seminar about the theoretical concepts they invented.
«Theatre and Democracy»
July 25 l 18.30 – 20.30
Near Pnyx


«The emergence of ancient Greek philosophy in the free public space of the city»
July 28 l 18.30 – 20.30
Ancient Greek & Roman Agora in Athens


​«Plato and the Ideas»
July 31 l 18.30 – 20.30
Plato's Academy in Athens


«What is "ancient" in Ancient Greek Philosophy?»
August 4 l 18.30 – 20.30
In front of the Panathenaic Stadium 'Kallimarmaro'


«Aristotle and Politics»
August 5 l 18.30 – 20.30
Near the site of Aristotle's Lyceum in Athens.


«Ancient Technē and Modern Technology»
August 8 l 18.30 – 20.30
Near the site of Aristotle's Lyceum
EVENT INFO
When

:

25 Jul 2021 - 08 Aug 2021

Where

:

Various Locations

Price

:

20 Euros

Title:

Philosophical Walks In Ancient Athens

Email:

athenschool2017@gmail.com

Contact Number:

+306946952259