SNF Nostos 2021 - Humanity & Artificial Intelligence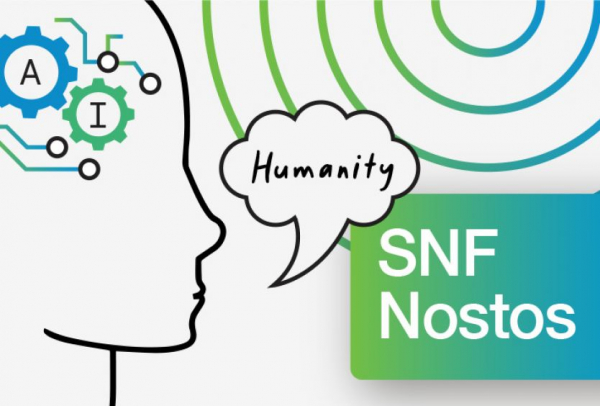 It's been a difficult year for humanity, but together, we have the power to help each other get back on our feet. Οn August 25-29, 2021, the Stavros Niarchos Foundation's (SNF) SNF Nostos events that ordinarily take place each June at the Stavros Niarchos Foundation Cultural Center (SNFCC) in Athens, Greece, will give us a chance to get together, to start talking, and to get moving once again. We look forward to experiencing SNF Nostos in person this summer with all of you.
SNF Nostos is an international, multidimensional festival bursting with art, conversation and ideas, music, dance, performances, participatory entertainment, and sports activities. SNF Nostos combines a fresh lineup of beloved Greek and international artists with annual signature events: the SNF Nostos Conference featuring luminaries from diverse spheres, the evening SNF Nostos RUN, and the SNF DIALOGUES in collaboration with the SNF Agora Institute at Johns Hopkins University.
Discover
How can we make sure that artificial intelligence technology emboldens the human spirit, rather than diminishes it? How might we use AI to build a healthier, greener, and more equitable world? Can we limit the risks of AI, and ensure its benefits are widely shared? Can we use AI to overcome our limitations instead of simply reinforcing them?
The 2021 SNF Nostos Conference, dedicated to Humanity and Artificial Intelligence, will explore these questions and more from August 26 to August 28.
Register
HERE
!
Discuss
On August 25th, SNF DIALOGUES, a series of events held through journalism nonprofit iMEdD (incubator for Media Education and Development), will host an open discussion as part of SNF Nostos on the topic of Humanity-AI Symbiosis in collaboration with the SNF Agora Institute at Johns Hopkins University.
Guided by expert perspectives and driven by the audience's curiosity, the DIALOGUES discussion will address the ethical, philosophical and social issues that arise from the use of developed AI systems in everyday life, and what the future holds for society and democracy. The event will feature a live discussion with an AI system, giving food for thought and setting the stage for further discussion, including a Q&A with young people at the end of the event.
Register
HERE
!
Run
It may be the most satisfying activity at the SNF Nostos celebration, and it's certainly the sweatiest. On August 25th, the SNF Nostos Run returns with an opportunity to join other runners from all over Greece and around the world in shaking off those lockdown cobwebs. The run will be held in-person and will also include a virtual option. Organization of the race is supervised by the nonprofit Regeneration & Progress and medical supervision is provided by the First Orthopedic Clinic at the National and Kapodistrian University of Athens (NKUA).
Registration for the SNF Nostos Run opens on June 23rd.
Enjoy
Artists from Greece and around the globe will present original works and installations that help us appreciate and rethink the world around us, including the mesmerizing potential artificial intelligence holds for humanity. Games, puzzles, and computer science conundrums will ignite curiosity and stretch brains of all ages. Electrifying musical acts will get us on our feet and moving to the beat.
EVENT INFO
When

:

25 Aug 2021 - 29 Aug 2021

Where

:

Stavros Niarchos Foundation Cultural Center

Price

:

Free

Title:

SNF Nostos 2021 - Humanity & Artificial Intelligence

Email:

info@snfcc.org

Contact Number:

(+30) 216 8091000

Website:

www.snfcc.org/en/SNFNostos2021