18th African Cultural Festival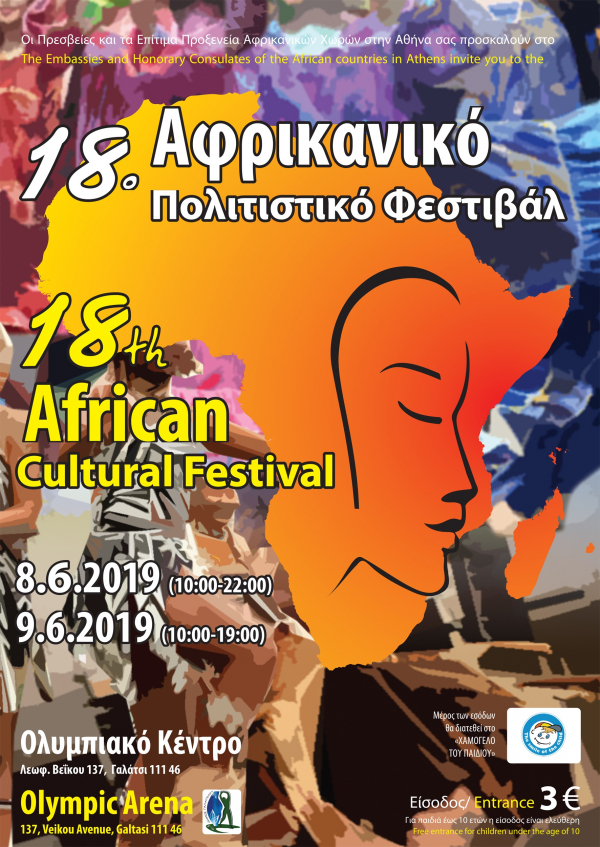 The African Embassies and Honorary Consulates accredited to the Hellenic Republic have the pleasure to invite you to the "18th African Cultural Festival" to be held from 8 - 9 June 2019 on the premises of the Galatsi Olympic Arena (137 Veikou Avenue, Galatsi).


The African countries participating in the Festival (Algeria, Angola, Burundi, Egypt, Ethiopia, Ghana, Ivory Coast, Kenya, Libya, Madagascar, Morocco, Nigeria, Senegal, Seychelles, South Africa, Sudan, Tunisia, Zambia and Zimbabwe), will give visitors a chance to acquaint themselves with the customs of each country by showcasing and promoting folklore costumes, music and dancing. Kiosks will be selling handicrafts, clothing, traditional dishes, and beverages.


Part of the funds raised from the 18th African Cultural Festival will be donated to "The smile of the child" organization, to strengthen its Panhellenic work.





Festival Hours:
Saturday, 8 June 10:00-22:00
Sunday, 9 June 10:00-19:00


Entrance ticket:
Adults: €3 Children under ten: Free


For information:
Embassy of South Africa Tel.: 210 6178044 / 210 6178020 «The Smile of the Child» Tel.: 2103306140
---
XpatAthens is proud to be a
Media Sponsor
of the African Cultural Festival
---
EVENT INFO
When

:

08 Jun 2019 - 09 Jun 2019

Where

:

Galtasi Olympic Arena

Price

:

€3

Title:

18th African Cultural Festival

Contact Number:

210 6178044