Pint Of Science 2019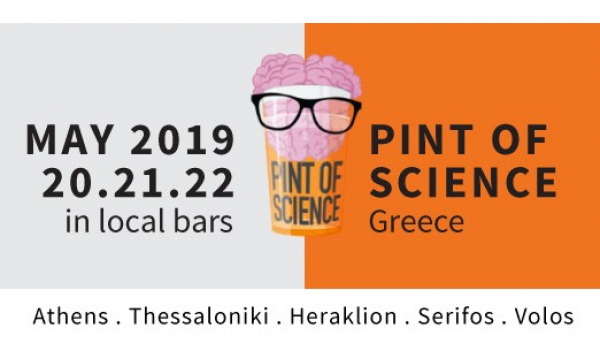 A «different» International Scientific Festival


After its successful organization in 2018, Pint of Science is back in Athens and Thessaloniki, and for the first time to Heraklion, Serifos, and Volos. Be prepared for 3 nights full of science!

What is the Pint of Science?

It is an original and unique annual celebration of science organized from 2015 around the world with a pint of beer! A major scientific event launched in 2012 by a team of research fellows from Imperial College of Science Technology and Medicine in London, in order to disseminate science inside the pubs. The aim is to bring scientists and society together in a simple and direct way in the intimate and friendly environment of a bar. The team's vision is to spread the passion for knowledge and scientific research to the public.

When and where?

From 20 to 22 of May 2019, researchers and scientists from all scientific fields will give short talks at central bars in Athens, Thessaloniki, Heraklion, Serifos and Volos, along with their collaborating researchers in 400 cities from 25 other countries around the world. For three days, the communication of scientists and the public, having ethanol as a catalyst, will mathematically lead to a relaxed conversation.

Pint of Science, addressed to people of all ages, covers a range of scientific topics from hot scientific fields of every day's life.

The subjects of the talks are divided in 6 sections: Beuatiful Mind, (Psychiatry, Neurosciences and Psychology, Atoms to Galaxies(Physics, Chemistry and Mathematics), Our Body (Biology, Medicine), Planet Earth (Environmental Sciences), Τech Me Out(Technology, Engineering and Computer Science), Our Society (Sociology, Law, History and Political Sciences).

Ιn Athens and Thessaloniki Science Reactors will join the event with their unique and enjoyable Stand Up Science (in the scheme of Stand up Comedy) presentations.

The 5 bars in the center of Athens where the PoS will be hosted are:

- MoMix (Kerameikos)
- T.A.F (Monastiraki)
- Meerkat Cocktail Safari (Koukaki)
- Rabbithole (Lekka str.)
- Lazy Bulldog Pub (Gazi).

An event addressed to the English speaking audience will take place at The Lazy Bulldog Pub, on the 20th of Monday, at 20:00.



---

XpatAthens is proud to be a Media Sponsor of Pint of Science 2019

---