Athens Science Festival 2019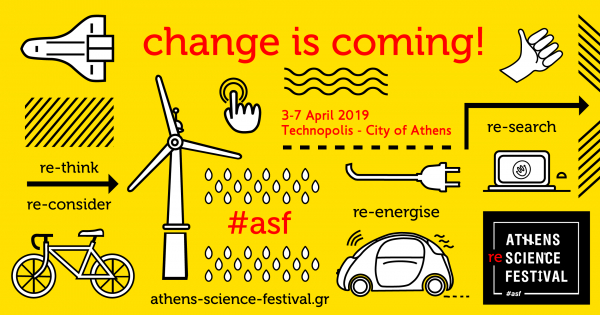 The Festival is organized around several thematic areas and we are adressing an open invitation to the participants of this year's festival so as to plan their actions by prioritizing issues that highlight the following scientific areas:


Green Development / Cyclical Economy / Bio-Economy / Energy / Biodiversity / Climate Change / Ecosystems / Water Resources / Soil/ Forests


Do we still burn coal? When do we plan to stop doing it? What do we know about properly managing natural resources? Do we recycle correctly? Knowing what is right and wrong is not always enough to make our ambitious environmental goals a reality. Social and economic barriers are often confronted and intertwined.


The solution lies in sustainability and "knowledge economy", thus the
Athens Science Festival 2019
will focus on this area! Together we will explore all challenges linked with living a sustainable everyday life, we will share good practices in order to reduce our environmental footprint and plan a future where global warming is in line with growth. An unforgettable experience awaits this year's festival audience: observation and demonstration will give way to exploration and experimentation and all visitors will become part of science in the most interactive and entertaining way!
Learn more about the festival
HERE
!
EVENT INFO
When

:

03 Apr 2019 - 07 Apr 2019

Where

:

Technopolis City Of Athens

Price

:

5 euros

Title:

Athens Science Festival 2019

Contact Number:

210 3692337

Website:

www.athens-science-festival.gr/en/