Τhe Christmas Meet Market 2018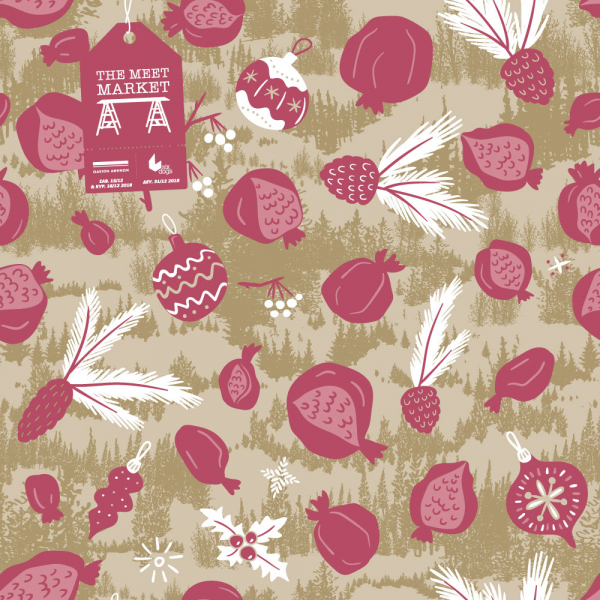 The holidays are finally upon us. It's time to gather with friends, family and loved ones… share food… relax and listen to good tunes… drink and be merry… drink a bit more and feel all warm and fuzzy inside… And where can you do all those things while shopping for the perfect presents? You guessed it! The Meet Market!
As per usual, we will be hosting 2 holiday markets this season, starting with the Meet Market Christmas Edition, Saturday 15 (12:00 - 23:00) & Sunday 16 December (12:00 - 22:00) at the fabulously festive Athens Conservatoire! We went there last year for Christmas and fell in love with this impressive cultural space, so we are going back for more. Expect to find 100 stalls of the most exquisitely made, locally produced goodies that make the perfect Christmas presents for the people in your life that you want to spoil, or just treat yourself.
For those of you with families and young children, we have organized a very special collaboration with the Hellenic Children's Museum this Christmas. Located right next to the entrance of the Meet Market on the grounds of The Athens Conservatoire, this sensory playground for kids has plenty to keep your little friends (aged 3 -12) occupied and entertained for hours! The Hellenic Children's Museum will be open from 12:00 – 20:00 both Saturday and Sunday, along side the Meet Market, with plenty to do and see and learn, from cookie baking workshops to bubble making to a make shift construction sight to playing in their newly renovated kids-super market, complete with a bakery, a fish shop, a vegetable market, and a flower shop. And for the younger ones who still haven't learned to walk, there is a special carpeted room with activities designed for babies aged 0 – 3 years old. Inside the Meet Market, you will also find a special room taken over by the Yfi ceramics team, where kids aged 4 – 10 years old will be able to experiment with clay and make their own unique Christmas ornaments, for free of course. The workshop will be help on Saturday and Sunday, from 15:00 – 19:00, so make sure you check it out.
To compliment our high spirits and jolly mood, we'll have back dj sets all weekend long, glühwein, a cafe, craft beer, yummy food and plenty of free presents to win from the central cashier and a whole lot more.
And stay tuned for New Year's Eve Meet Market at six d.o.g.s!


FOR THE KIDS
Christmas Workshop with Yfi Ceramics
For kids ages 4-10
Saturday 15 & Sunday 16 December, 15:00 – 19:00
Free Entrance
This Christmas, the elves of Santa Clause will be making especially unique & imaginative ornaments for decoration, so that they can spread the magic of Christmas everywhere… and of course they need the help of all the children… but first the children need to have some practice. Through the help of 2 interactive games, kids will be able to collect items and tools, which will in turn provide the instructions for making their own one-of-a-kind Christmas ornament. Those ornaments will then go to the Yfi ceramic studio where they will be cooked in a kiln, and in its place, each child will take home a ready made ceramic ornament… until they come pick up their own on a later date!

Yfi Ceramics is the creation of Nikolina, Antigoni and Aimalia – the first two with degrees in Industrial Design, and the third in Child Education & Psychology. Three years ago, they started to design and experiment with clay together, and for the past couple of years, they have their very own studio for custom ceramic creations in Kato Petralona, where anyone can go for workshops and seminars and various activities.
The Hellenic Children's Museum
Saturday 15 & Sunday 16 December, 11:00 – 20:00
Free Entrance
The Hellenic Children's Museum is here to help children understand and enjoy the world they live in. Together in a special collaboration with the Meet Market this December, the museum is extending their working hours, so that families with children aged 3 – 12 can have the opportunity to freely engage, discover and play with the interactive exhibits all weekend long, including the following:

"Inside the Water" – making bubble & experimenting with water, "I Build & Create" – building their own home,"Hello Pythagoras" – discovering geometric shapes, "Great Grandma's & Great Grandpa's House" – travelling back in time, "Kitchen" – baking their own Christmas cookies and more!
While very young children aged 0 – 3 can play in the specially designed "Play Ground".