Athens Negotiations Tournament 2021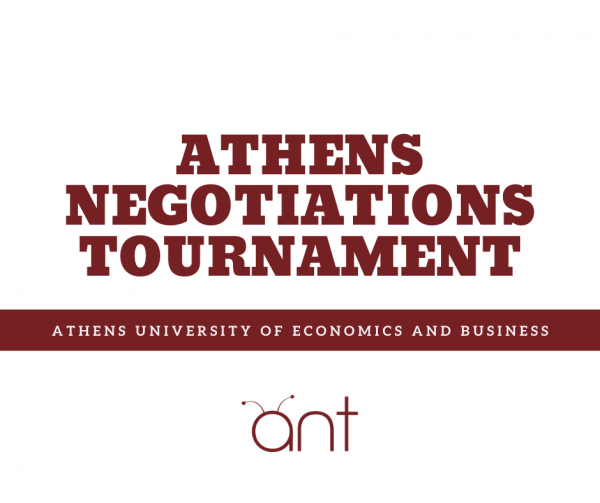 3rd Panhellenic Negotiation Competition


The Panhellenic Student Negotiation Competition Athens Negotiations Tournament is back for the third consecutive year! On May 8 th and the two weekends after that students from Universities in Greece and Cyprus will be the protagonists of real time negotiations.

The Athens Negotiations Tournament (ANT) is an initiative of the Business Administration Department of Athens University of Economics and Business, supervised by Assistant Professor, Dr. Ilias Kapoutsis.

The aim of the competition is to be the annual meeting place for students across Greece and the world to resolve disputes and strengthen the negotiating skills that are necessary for transition and prosperity in the 4th industrial revolution.

The first two qualifying rounds are divided into two phases (8-9 May and 15-16 May respectively), and will be held remotely. The 24 teams that will collect the highest scores from the first qualifying round will progress to the second and then, the 8 highest ranking teams will participate in the third round on May 22nd. On May 23rd the two highest- scoring teams will participate in the finale of the competition. Participants, throughout the qualifying rounds, will get the chance to show off their negotiating skills, test their speed and effectiveness and gain valuable experience.
Those interested may submit their application from 18 March to 18 April 2021 through the website of the event:
www.ant.aueb.gr
(Website is in Greek).
Participants will be selected based on their education, past work experience, any awards and distinctions, their geographical origin, as well as, an accompanying video in which they explain the reasons why they believe that they should be selected to take part.
---
XpatAthens is proud to be a
Media Sponsor
of Athens Negotiations Tournament
---