Athens Negotiations Tournament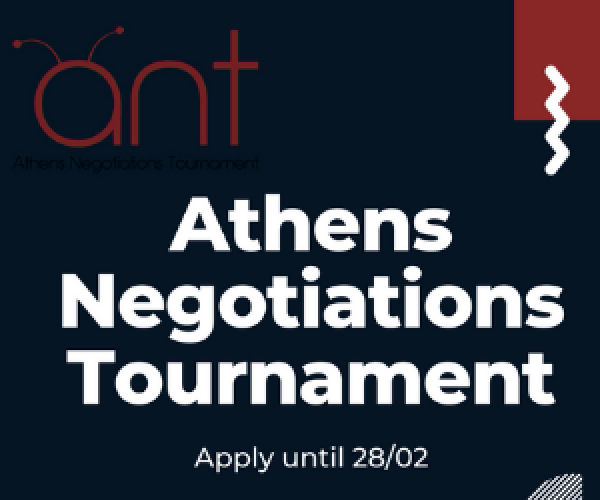 The Panhellenic Students Competition of Negotiations Athens Negotiations Tournament returns for the second year running. On the 30th and 31st of May 2020, students of Greek and Cypriot universities will take part in real-time negotiations.
This competition has been organized by the Department of Business Administration of Athens University of Economics, with scientific director dr. Ilias Kapoutsis.
In this competition, 18 teams are taking part, consisting of three students each undergraduate and postgraduate students from Greece and Cyprus and supported by 40 volunteers.
The purpose of this competition is to get together students from Greece and around the world for the resolution of various issues and to enhance the skill of negotiation which is a prerequisite for the adaptation and prosperity in the 4th industrial revolution.
During the two-day simulations, the participants will have the opportunity to exhibit their negotiation skills and to gain valuable experience.
The winners of ANT2019 will represent our country at the Warsaw Negotiation Round 2020 International Negotiation Competition. The knowledge and the experience that the competitors will gain from this event, will be beneficial for them and our country.
The interested teams to participate in this competition, they can apply through the Greek website:
www.ant.aueb.gr
, from 10 to 28 of February. The final selection will be based on the studies that the applicants have concluded, the possible working of voluntary experience, any awards, the geographical origin of the team, and the accompanying video explaining the reasons why they believe that they should are selected to participate.
---
XpatAthens is proud to be a Media Sponsor of the Athens Negotiations Tournament

---
EVENT INFO
When

:

30 May 2020 - 31 May 2020

Where

:

Atraktos Conference Centre

Title:

Athens Negotiations Tournament

Email:

ant@aueb.gr

Website:

ant.aueb.gr/