YES To Shipping Forum FORUM 2018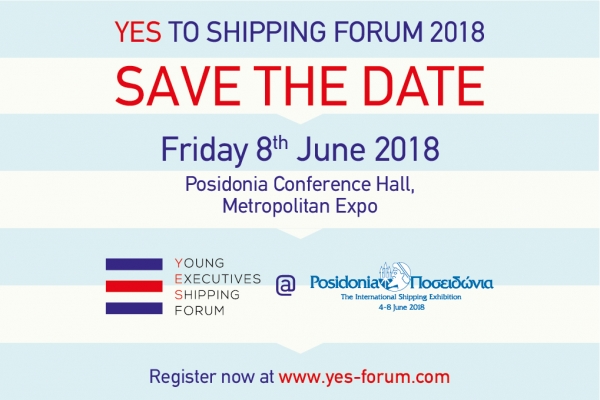 YES Forum is organizing YES to Shipping Forum on Friday, 8th of June 2018 at PosidoniaConference Hall, during Ρosidonia Exhibition 2018. YES Forum was initiated by Danae Bezantakou, CEO - Navigator Shipping Consultants and is the first forum to beheld under the auspices of the Ministries of Shipping & Education and the majorityof Greek Universities, organized by a team of 40 volunteers.

YES Forum is the leading platform of open dialogue among the Decision Makers ofthe Greek Shipping and Sea Tourism Industry and the Entrepreneurship in general, principals, executives and university students, recent graduates and young executives. What we are aiming for, is the next generation to become acquaintedwith the Greek Shipping History through our Collaboration with the Greek Shipping Miracle and the Posidonia Exhibitions as well as to exercise and practice their networking skills.

The establishment of this platform of open dialogue is based on the results of the recent Survey that was done by diaNEOsis which demonstrate the aging of the Greek Population. In 2015, Greeks were 10.8 million and in 2050 it is forecasted to reach 8.3-10 million, with 30-33% of the population being over 65 years old. If we do not want Greece to be run by an aging population and the country's active labor force to leave abroad (450,000 young people imigrated during the crisis), we should encourage dialogue with young people at all levels of education in order to motivate them to get to know the entrepreneurship, the prospects and opportunities that it offers and to pass on our knowledge, experience and history so that our country can continue to evolve and progress.It is our strong belief that the open dialogue which began at Posidonia 2016 and attracted more than 1,300 delegates must continue and we hope even more peoplewill be motivated to support our vision and effort.


For this reason, this year, the participants on the day of the Forum, apart from having the opportunity to ask their questions, they will be able to take part inorganized visits to the Posidonia Exhibition stands in order to become familiar with the Industry of Shipping Services.


The Forum, which will take place on Friday 8 June 2018, will be the outcome of aThe Forum, which will take place on Friday 8 June 2018, will be the outcome of aproject that is running all year through the following actions:
- Open Days in ShippingCompanies
- Daily Internships - Monthly meetings with the YES Forum volunteerteam
- Presentations of our actions in Greek Universities and schools
.For your registration please click
HERE
!
LOCATION
EVENT INFO
When

:

08 Jun 2018

Where

:

4-6 Efplias Street, 185 37 Piraeus

Title:

YES To Shipping Forum FORUM 2018

Email:

info@yes-forum.com

Contact Number:

+30 2106234000