Night In Athens - FokiaNou Art Space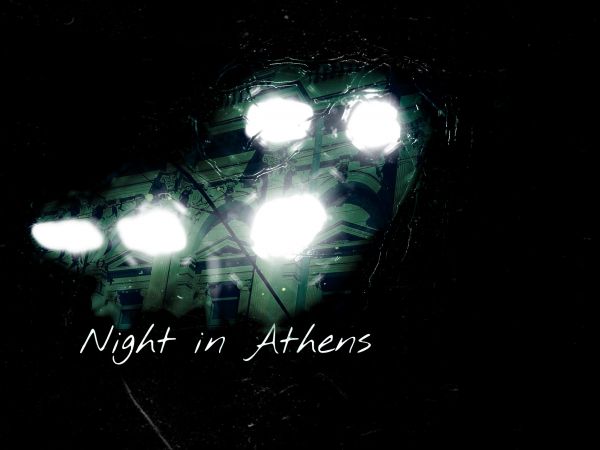 FokiaNou Art Space has a fondness for Athens, especially when darkness falls and the hard walls of apartment buildings around us are softened and illuminated. Beyond the wires, cables and antennas, the neighboring marble stadium glows and the Acropolis and Lycabettus are bathed in light. Bars, clubs, theaters, cinemas and parks are buzzing with music,walks, kisses, love, sex, friends, and fun, but also loneliness and work. Nineteen artists were selected from an open call for an exhibition with the theme of Athens at night: stories and impressions of the night and the city. The exhibition includes painting, drawing, collage, sculpture, printmaking, photography and video.


Participating artists: Athanasia Aarniosuo, Nora Cook, Mary Cox, Angeliki Douveri, Alexandros Georgiou, Dimitra Gounari, Eleni Kolliopoulou, Nina Kouklaki, Kalliope Kouklinou, Christiana Krasia, Sofia Kyriakou, Kostas Lales, Ilia Machaira, Yiannis Moustakalis, Alegia Papageorgiou, Geeta Roopnarine, Stella Sevastopoulos, Christina-Sylvia Simantira, Georgia Touliatou. Curated by Mary Cox and Panagiotis Voulgaris.


FokiaNou Art Space is an artist-run project space in the intimacy of a small apartment in an old building in the center of Athens. The space encourages collaborative creative efforts between Greek and foreign artists, thereby promoting and supporting the local art community. The space hosts exhibitions, workshops and projects under the direction of two artists, Mary Cox and Panagiotis Voulgaris.
www.fokianou247.gr
Duration: 20 January - 5 February 2022
Hours: Thursday – Saturday 17.00-20.00
Special hours for 20 January: 17.00-21.00
FokiaNou Art Space, Fokianou 24, 7th Floor, Pagrati Metro: Evangelismos
EVENT INFO
When

:

20 Jan 2022 - 05 Feb 2022

Where

:

Fokianou 24, 7th Floor, Pagrati

Title:

Night In Athens - FokiaNou Art Space

Website:

www.fokianou247.gr