FokiaNou Art Space - Fragility Of Breath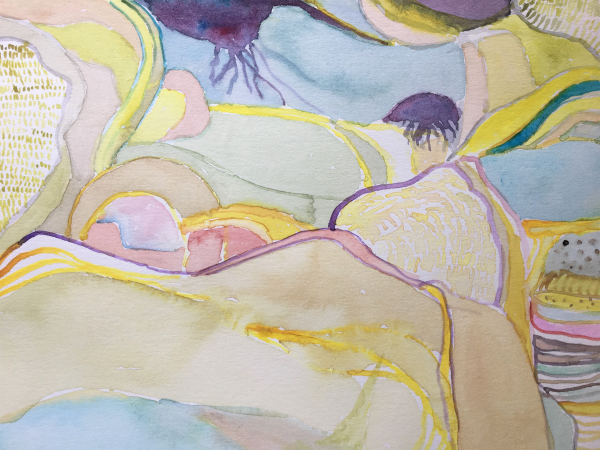 FokiaNou Art Space is pleased to present a solo exhibition of Geeta Roopnarine, "Fragility of Breath." Geeta Roopnarine is an interdisciplinary artist working within the intersection of art, science, and technology. Her process is inspired by the archaeology of things, unearthing layers of meanings, and in making connections between cultural and historical artefacts. Her background includes Indian, Trinidadian and Greek cultures and she draws upon images and myths to transform the familiar into the unfamiliar.
Prana, the Sanskrit word for breath, life force, which permeates reality on all levels including inanimate things is her starting point to pose questions about mind-body 'dichotomy' and what it means to be a breathing body. Paper, a fragile material, interacts with watercolor and mark making and effects a collaboration between artist and material. Watercolor, poems, and 3D installation create a liminal space between abstraction and reality within the context of human and non-human.
Geeta Roopnarine was born in Trinidad and Tobago and lives in Athens. She trained as a forensic scientist before studying sculpture at Athens School of Fine Arts (Professor George Lappas). She recently completed an MA in Computational Arts at Goldsmiths, (Univ of London) and has taken part in exhibitions in Greece, London, and New York.
The use of masks and social distancing are required in all areas of the space, including the roof terrace, halls and elevator.
FokiaNou Art Space
is an artist-run project space in the intimacy of a small apartment in an old building in the center of Athens. The space encourages collaborative creative efforts between Greek and foreign artists, thereby promoting and supporting the local art community. The space hosts exhibitions, workshops and projects under the direction of two artists, Mary Cox and Panagiotis Voulgaris.
www.fokianou247.gr
Opening: Thursday 10 June 2021, 18.00
Hours: Thursday-Saturday, 18.00-21.00