Celebrating The Greek Revolution Anniversary - National Garden Exhibition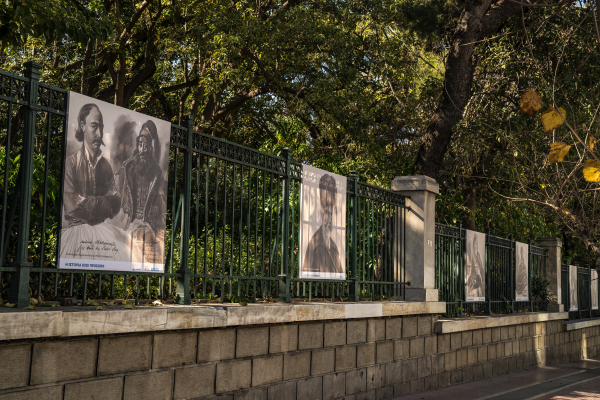 Outdoor exhibition in the National Garden for the 200 years since the 1821 Greek Revolution


The Sylvia Ioannou Foundation, the National Historical Museum, and the Municipality of Athens are organizing a special exhibition in memory and honor to the heroes of 1821, as part of the celebration for the 200th anniversary of the Greek Revolution.
Two centuries after the national polygenesis, the National Garden, an emblematic landmark of Athens, hosts an outdoor exhibition, on Vasilissis Sofias Avenue, which brings to the fore the people who fought and sacrificed so that Greek people today can enjoy freedom and democracy.
The exhibition presents 22 paintings with some of 320 unique faces painted by Benjamin Mary (1792-1846), Belgian diplomatic representative of Greece.
The drawings were made naturally, mainly in Athens, between 1839 and 1844. They are published for the first time, giving us the opportunity to meet known and unknown figures of the Greek Revolution and Ottoman Greece, through the sensitive and penetrating gaze of a European artist.
Fighters, politicians, priests, scholars, philhellenes, everyday people, pose patiently for the portrait and Benjamin Mary manages to capture their expression in a unique moment in history.
---
Whether you've just arrived in town – or have been here for years – Athens always has new secrets to share!
This is Athens
is the official guide to this captivating city of ancient energies and booming urban culture. Compiled by a team of specialist local writers, This is Athens brings you an authentic and intimate portrait of a living Athens beyond the guidebooks – along with daily curated listings of all the best events and great weekend inspiration all-year round. From must-know neighbourhoods and emerging art hubs, to gourmet hotspots, cool shopping and the buzziest bars, This is Athens will help you to get the most out of living in Athens!
Thank you This is Athens for your contribution as an
XpatAthens Partner.
EVENT INFO
When

:

01 Feb 2021 - 30 Apr 2021

Where

:

National Garden

Title:

Celebrating The Greek Revolution Anniversary - National Garden Exhibition