FokiaNou Art Space: indeX 2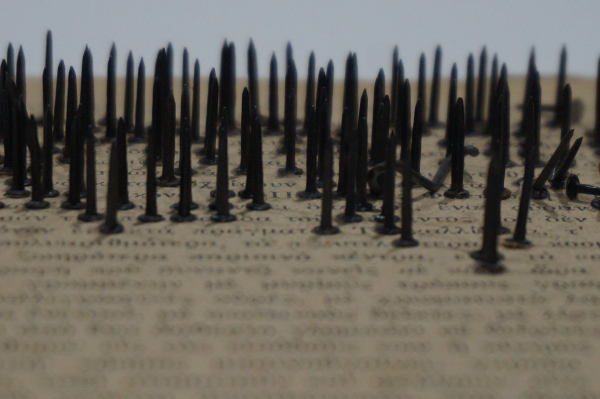 "indeX 2", an installation and performance with Panajotis Daramaras and Sania Stribakou

FokiaNou Art Space is pleased to present "indeX 2", Panajotis Daramaras' second part of an ongoing trilogy investigating the symbolic and scientific dimensions of matter. In indeX 2, Daramaras creates an independent universe of sculptural compositions and installations featuring wood and books, as well as a performance by Sania Stribakou. To paraphrase independent curator Ira Papadopoulou, "In indeX 2, not only does Daramaras narrate his own relationship to the unspeakable language of objects, but he also attempts to convey the inner sound of the body of matter itself, and to peel apart its surfaces and portray its primal history –a history existing prior to the palimpsest of records that have transformed matter forever." The performances will take place on the roof of Fokianou art space. Motion design: Sania Stribakou, Conception: Panajotis Daramaras. Masks and social distancing are required in all areas of the space, including the roof, halls, and elevator.
About the artist


Panagiotis Daramaras is a visual artist who lives and works in Athens. He studied at the Stavrakos Film School, attended Modern Dance and acting lessons, and later graduated from the School of Fine Arts in Athens. He has designed sets for films and theater and has participated in many group art exhibitions. In 2013 he choreographed and interpreted the work "Traces" in collaboration with Aggeliki Papadatou. In 2018 he presented the first indeX at FokiaNou Art Space. In 2019 he curated the exhibition RememberingRemembered with Lia Petrou and participated in Supermarket, Stockholm Independent Art Fair. Most recently he participated in Ammophila Vol.1 Birth, in Elafonisos, 2020.


About FokiaNou Art Space


FokiaNou Art Space is an artist-run project space in the intimacy of a small apartment in an old building in the center of Athens. The space encourages collaborative creative efforts between Greek and foreign artists, thereby promoting and supporting the local art community. The space hosts exhibitions, workshops, and projects under the direction of two artists, Mary Cox and Panagiotis Voulgaris.
Opening: 26 & 27 September, 18.00
Duration: 26 Sept - 17 October 2020. Opening hours: Thursday to Saturday 17.00 - 20.00.
Performances: 26/9, 27/9, 3/10, 10/10 at 19.00
EVENT INFO
When

:

26 Sep 2020 - 17 Oct 2020

Time

:

18:00 - 20:00

Where

:

Fokianou 24, 7th floor, Pagkrati, Athens

Title:

FokiaNou Art Space: indeX 2

Website:

www.fokianou247.gr/