SNF Dialogues Webcast: Art on Lockdown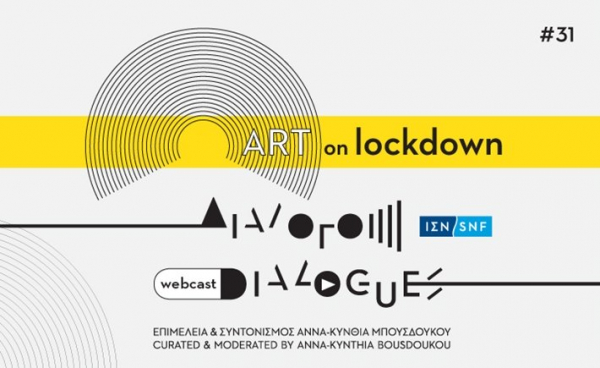 The SNF DIALOGUES discusses the impact of COVID-19 on Arts & Culture

Since the initiation of lockdowns as a response to the COVID-19 pandemic, art has served as a way out and an outlet of expression for people confined indoors. From theatrical and musical performances, films, museums, and books made freely accessible from home to individual artistic endeavors, art in all its forms has been critical to sustaining our well-being as human beings.

On Wednesday, May 27 at 18:30 (GMT+3), the SNF DIALOGUES will hold its fourth live webcast, "Art on Lockdown," to discuss the deep new challenges arts and culture professionals face as a result of the pandemic. Through an open conversation with these professionals and the audience, SNF DIALOGUES will explore the impacts of the pandemic, what comes next, and our collective responsibility to ensure that art and culture do not succumb to lockdown.


Participants in the DIALOGUES webcast on "Art on Lockdown":


-Foivos Delivorias, Singer-Songwriter, Chairman of the Board at EDEM
-Prodromos Tsinikoris, Director, Dramaturge

Katerina Evangelatos, Artistic Director of the Athens & Epidaurus Festival
Linda Kapetanea, Artistic Director of Kalamata Dance Festival
Nikos Kolovos, Artistic Director of National Theatre of Northern Greece
Dimitris Lignadis, Artistic Director of the National Theatre of Greece
Thomas Machairas, Artistic Director of Release Festival
Giannis Paltoglou, Artistic Director of Ejekt Festival
Mily Paschali, Artistic Director at SNF
Anna Fonsou, President of the "Actor House," will contribute video messages that will be streamed during the discussion.


The DIALOGUES are curated and moderated by
Anna-Kynthia Bousdoukou
.
About SNF Dialogues


Through its monthly series of events, entitled
SNF DIALOGUES
, the Stavros Niarchos Foundation presents individuals and representatives of civil society who inspire others through their work, actions and vision, coming from different fields, backgrounds, and countries.
SNF DIALOGUES
delve into different themes that cut across the key pillars of the Foundation's work: Arts and Culture, Education, Health and Sports, and Social Welfare.
Through this series of events, which are free and open to the public, the SNF seeks to catalyze conversations around critical issues, create a platform for the exchange of ideas, present individuals who inspire a new way of thinking, and encourage collaboration among individuals and organizations across the globe.
---
Register online here: dialogues@SNF.org

---