Exhibition At FokiaNou Art Space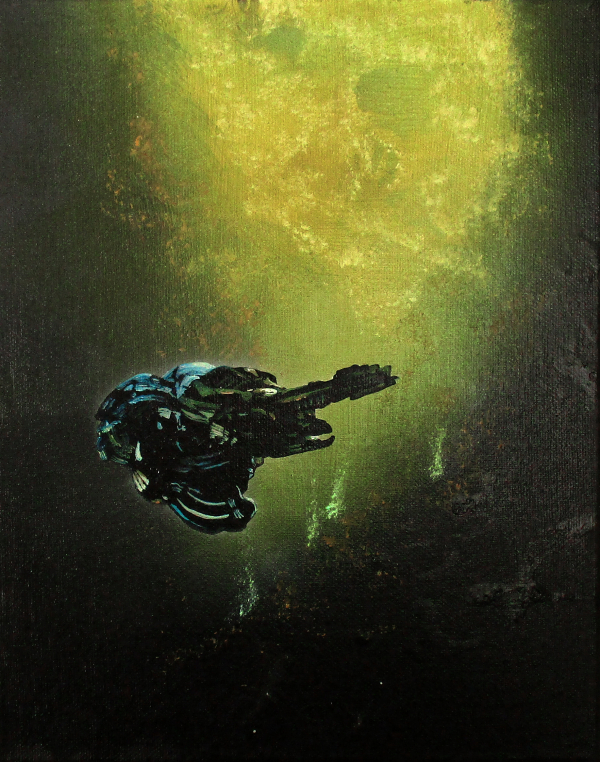 Chris Hawtin: "The Angel, The Engine"
Opening: Saturday, February 8th at 19.00 p.m.
Duration: 8 – 29 February 2020
Hours: Thursday – Saturday 17.00-20.00

FokiaNou Art Space is pleased to present a solo show of painting and sculpture by British artist Chris Hawtin. Using computerized imagery woven with painting and sculpture, Hawtin explores the relationship between organic and cybernetic structures and the effect of technological acceleration in relation to geographic space. Hawtin's work looks outward towards other dimensions to offer a glimpse into an alternative existence of a hybrid identity while referencing both high art and pulp/pop culture. Seemingly technological alien forms float within atmospheric landscapes or architectural spaces. These machine-entities imbue their environs with an apocalyptic sense of unease, calling to mind science fiction films or post-apocalyptic video games.

Born in Ely, Cambridgeshire, United Kingdom in 1974 Chris Hawtin attended Northbrook College, Worthing and Chelsea College of Art and Design. He has exhibited widely, including solo shows at Bearspace, C & C and No Format Galleries in London, Malgras/Naudet in Manchester and Artlounge Gallery in Lisbon, and a two-person show with FilipposTsitsopoulos at EleftheriaTseliou Gallery in Athens. His work was featured prominently in The Immediacy of Paint: Surface symposium at the University of Suffolk at which he was a key speaker. Hawtin has participated in many group shows, most recently in The Sky's Gone Out at Arthouse 1, London, and Life is Elsewhere at We Need Books Gallery in Athens. His work is in private collections worldwide and The Saatchi Collection, London.

FokiaNou Art Space is an artist-run project space in the intimacy of a small apartment in an old building in the center of Athens. The space encourages collaborative creative efforts between Greek and foreign artists, thereby promoting and supporting the local art community. The space hosts exhibitions, workshops and projects under the direction of two artists, Mary Cox and Panagiotis Voulgaris.


---
XpatAthens is proud to be a Non-Profit Sponsor of FokiaNou Art Space

---