"From The Ink" Chinese Exhibition In Athens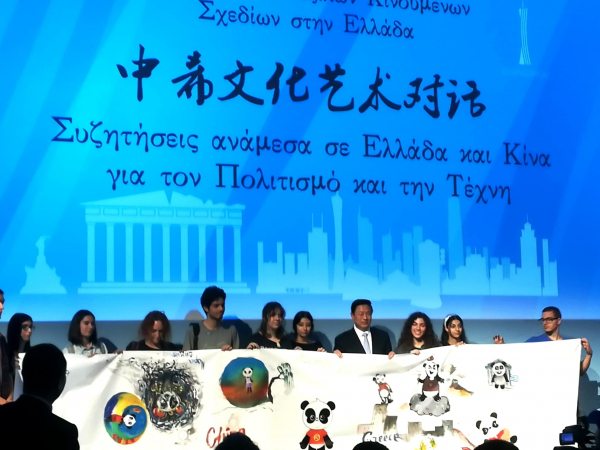 A series of events of Chinese comics are being held in Athens until November 5th. The events are hosted by The State Council Information Office of China, The National Radio and Television Administration of China, and the Embassy of China in Greece. Organized by the Information Office of the People's Government of Guangdong Province, The Information Office of the People's Government of Guangzhou, and The China Artists Association.


There are more than 100 Chinese modern classic animation works at the exhibition, including the masterpieces of Feng Zikai, Zhang Leping and other cartoon masters. The masterpieces of contemporary Chinese cartoon masters Cai Zhizhong, Zheng Xinyao, Jincheng and others, as well as the representative works of Laoshu (Liu Shuyong), Xiaolin (Lin Dihuan) and Gao Youling in the new media era. Animation Movies include Havoc in Heaven, Where is Mama, Prince Nezha's Triumph Against Dragon King and other classic works with Chinese ink characteristics, and also those won the International prizes, such as One Small Step and Life Smartphone.


The participants also have the chance to watch the movie Ne Zha which had a big success in China. It was created on the basis of traditional mythology and has been re-interpreted in modern times creating a second smash hit at the box office in Chinese film history, and entering the Oscar Best Animation feature Primary.


The design exhibition of "Beyond the Tower: The Transfer and Transmission of China's Image" held at the same venue gathered more than 200 designers' works of cross era, cross theme, cross-discipline and even cross-cultural background, trying to activate Chinese traditional culture, create new concepts, new categories and new expressions at home and abroad, and explain the macro, open, diverse and confident temperament of contemporary Chinese culture. The exhibition also brings with the 2022 Beijing Winter Olympic Games mascot Bing Dwne Dwne to meet the audience in Athens Greece, the birthplace of the modern Olympic Games.
EVENT INFO
When

:

31 Oct 2019 - 05 Nov 2019

Time

:

12:00 - 00:00

Where

:

Ellinikos Cosmos - Block 56 / Polikratous 21, Rentis

Price

:

Free

Title:

"From The Ink" Chinese Exhibition In Athens