Art Athina 2019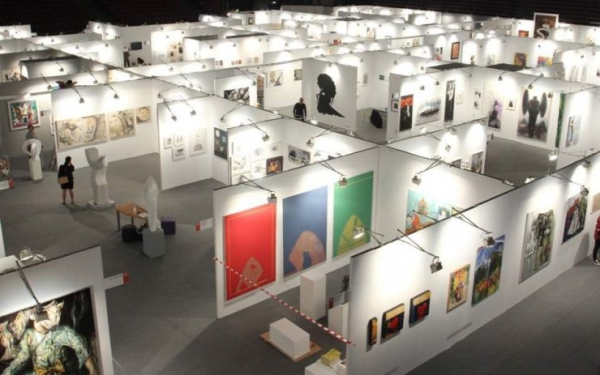 Art Athina 2019 returns for the 24th year in a brand new venue in the heart of Athens. The biggest annual cultural event of Greece will take place between Saturday 14th to Monday 16th of September at Zappeion Mansion.

Art Athina 2019 is organized under the auspices of the President of the Hellenic Republic, Mister Prokopios Pavlopoulos, who is set to inaugurate the fair on Friday, 13th September at 19:30.


Art Athina 2019 involves participation from 36 Greek and international galleries. Its new host, Zappeion Mansion, is strongly associated with Culture, Sports and recent Greek History. It constitutes the first building to be erected for the purposes of the modern Olympic Games, while it is also considered a milestone of Greek Neoclassical architecture. One specific section of this year's fair, VIDEO, will find a home under the Athenian night sky, within the oldest cinema of Athens, Aegli Zappeiou.
One of the oldest art fairs in Europe, Art Athina has been active since its establishment by the Panhellenic Art Galleries Association in 1993 and is organised by the Hellenic Art Gallery Association and produced by Be Best production company.
The program is as follows:
Main:
The central section of the exhibition spreads in the main spaces of Zappeion Mansion, where local and international galleries present their booths.
Video:
The screening is curated by Art Athina Artistic Director, Stamatia Dimitrakopoulos. It involves video works selected from Daata Editions, a platform that commissions artist videos, sound, poetry and web to a new generation of artists who work with moving image and sound, Deste Foundation as well as independent Greek and international artists. The screening will take place at Aegli open–air cinema on Monday, September 16th at 9pm
Talks:
For a second year, independent curator Katerina Nikou, invites significant individuals from the international art community – museum directors, curators, art historians – to join Art Athina 2019's TALKS program. Central axis of this year's program is the question "The Future is Now?".
Live:
A performance program by visual artists fueled by the participating galleries of Art Athina 2019 and will take place throughout the duration of the Art Fair in multiple sites at Zappeion Mansion. It is a three-day programming initiative, curated by Sozita Goudouna, that showcases "New Visual Performance" experimentation and liveness and their implications for cultural production.
Educational Program:
The program is addressed to students of the Athens School of Fine Arts, visual artists and theoreticians, and aims to inform, inspire, and prepare their introduction to the art world. Students are invited to meet with the artwork, learning the process from production to exposure. The programme consists of two sections, visits to studios of artists and visits to galleries.
Art Athina Workspace:
Art Athina continues for a second year the international two-month artist residency, with the support of the Municipality of Athens and Athens Culture Net. Through Art Athina Workspace two artists, Neil Raitt from the United States and Dale Lewis from Britain were invited to spend four weeks in Athens seeking inspiration in the city and creating the works that were presented at the international program of Art Athina Summer Pop Up.
Art Athina Open Studios:
For one Saturday each month, from January to May 2019, Art Athina invites the Young Patrons of the Museum of Cycladic Art to studio visits with artists represented by the participating galleries of the fair. Art Athina Open Studios offers a unique opportunity to the Young Patrons to meet the artists in their working environment and familiarize with their practice.
The galleries participating in the 24th Art Athina:
a. antonopoulou.art (Athens), Agathi Kartalos (Athens), Alibi (Athens), Alma Contemporary Art Gallery (Athens- Trikala), Anna Pappas Gallery (Μελβούρνη), Argo Gallery (Athens), Αrt Appel Gallery (Athens), Arusha Gallery (Scotland), Astrolavos Art Galleries (Athens), Cheapart (Athens), Citronne Gallery (Athens), Crux Gallerie (Athens), Donopoulos International Fine Arts (Thessaloniki), ekfrasi-yianna Grammatopoulou (Athens), Eleftheria Tseliou Gallery (Athens), Eleni Koroneou Gallery (Athens), Epsilon Art Gallery (Loutraki), Evripidis Art Gallery (Athens), Gallery "7" (Athens), Gallery Art Prisma (Pireaus), Gallery d' Arte (New Jersey) Genesis Gallery (Athens), i-D Projectart (Athens), Ikastikos Kiklos Sianti (Athens), Ileana Tounta Contemporary Art Center (Athens), Kalfayan Galleries (Athens-Thessaloniki), kaplanon5 art gallery (Athens), Mihalarias Art (Athens), N, Papatzikou Gallery (Veria), PeriTechnon Karteris (Athens), Renatino Gallery (Cyprus), Skoufa Gallery (Athens), Skoufa Gallery Mykonos (Mykonos), Τechnohoros Art Gallery (Athens), The Breeder Gallery (Athens), Zina Athanassiadou Gallery (Thessaloniki).
Tickets are 8€. For unemployed, students and elders it is 5€ and entrance is free for children, people with disabilities, students of the Athens School of Fine Arts.
---
XpatAthens is proud to be a Media Sponsor Of Art Athina 2019

---