English Guided Tours By The National and Kapodistrian University of Athens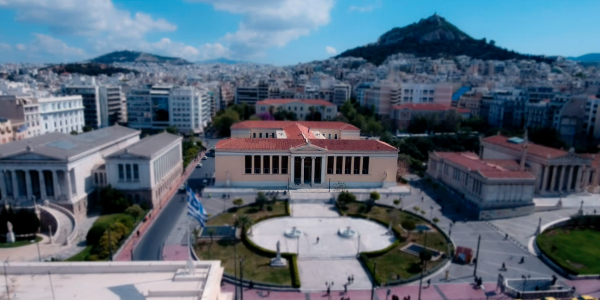 The National and Kapodistrian University of Athens, opens its "home" to the general public and invites you to get to know the Propylaea, one of the most iconic places of remembrance of the Greek capital. Part of Athenian Trilogy, the most well-known and important Neoclassical buildings' cluster in the city centre,the building of Propylaea founded in 1839, in drawings of the Danish architect Hans Christian Hansen.


Its halls constituted spaces for education, association, and protest. In its premises you can find the Greek Parliament, the National Library, numerous museums and workshops. In the interior and its precinct you can visit a series of ceremonial events (statues and column erections, anniversaries celebrations, etc.), while in the city geography, it constituted the eminent place of action, demonstrations and mergers.


The building decoration, with more characteristic mural in the interior façade of Propylaea, is one of the most important iconographic programs of the Greek 19th century. The architecture and painting served a narrative framework that closely connected the historical periods of Greek national history, while the sculpture program focused on recent history: Statues of important persons of Modern Greek history and columns of fallen in wars, works of Greek sculptures.


The tours include acquaintance with the Athenian trilogy and the visit to the Propylaea building. The tour duration is about 60' and will be made by Art historians of the Department of History and Archaeology , Michalis Giochalas and Pavlos Gkoygiannos, under the scientific supervision of the Associate professor of history of art in the Department of History and Archaeology of the University of Athens Dimitris Pavlopoulos.


For the tours there is price of 3€ for adults, 2 € for students or unemployed, 1€ for children (up to 6 years old) and for persons with disabilites the entrance is free of charge. (includes special information brochure).
For reservations visit the Guided Tour Calender
here
.
EVENT INFO
When

:

08 Aug 2019 - 28 Sep 2019

Title:

English Guided Tours By The National and Kapodistrian University of Athens

Email:

eadpp@uoa.gr

Contact Number:

210-36.88.189

Website:

visit.uoa.gr/en/about/