Museum Of Cycladic Art ~ Crete. Emerging Cities: Aptera – Εleutherna – Knossos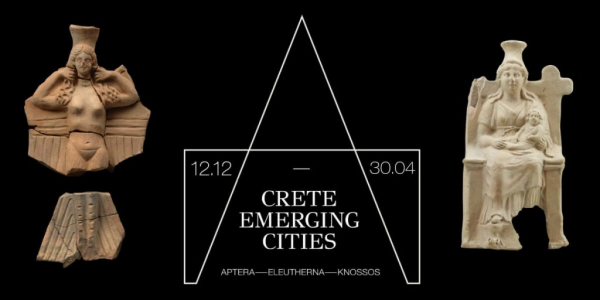 The Museum of Cycladic Art, the Regional Services of the Hellenic Ministry of Culture and Sports (Ephorates of Antiquities of Chania, Rethymno, and Herakleion) and the Region of Crete are co-organizing the exhibition entitled "Crete. Emerging cities: Aptera ― Eleutherna ― Knossos. Three ancient cities revived" from 12 December 2018 to 30 April 2019. This is a multi-faceted exhibition with rich audio-visual aids, including screens, maps, and innovative technologies.
The exhibition focuses on three of Crete's one-hundred cities, according to Homer (hekatompolis), and their common characteristics: their establishment, acme, decline, destruction, abandonment, and demise. Cities with centuries-long history, cities that were abandoned and forgotten, but are also tangible examples of archaeological investigation using similar or different approaches.
The exhibition comprises approximately 500 artefacts dating from the Neolithic (7th-6th millennium BC) to the Byzantine period (8th century AD), some newly discovered, others from old excavations, most of them never presented to the public before: statues, reliefs, figurines, inscriptions, vases, weapons, jewellery, coins, and other artefacts of various materials—limestone, marble, clay, metal (bronze, iron, silver, and gold), faience, glass, ivory, and semi-precious stones. This is the first time that so many artefacts leave the storerooms of the Antiquities Ephorates and display cases of the museums of Crete for a temporary exhibition in Athens.
Watch a video about this inspiring exhibition
HERE
!
EVENT INFO
When

:

12 Dec 2018 - 30 Apr 2019

Where

:

Neophytou Douka 4, Athens

Title:

Museum Of Cycladic Art ~ Crete. Emerging Cities: Aptera – Εleutherna – Knossos

Email:

museum@cycladic.gr

Contact Number:

+30 210 72 28 321-3