Danish Institute of Athens - SKINd Signs of purity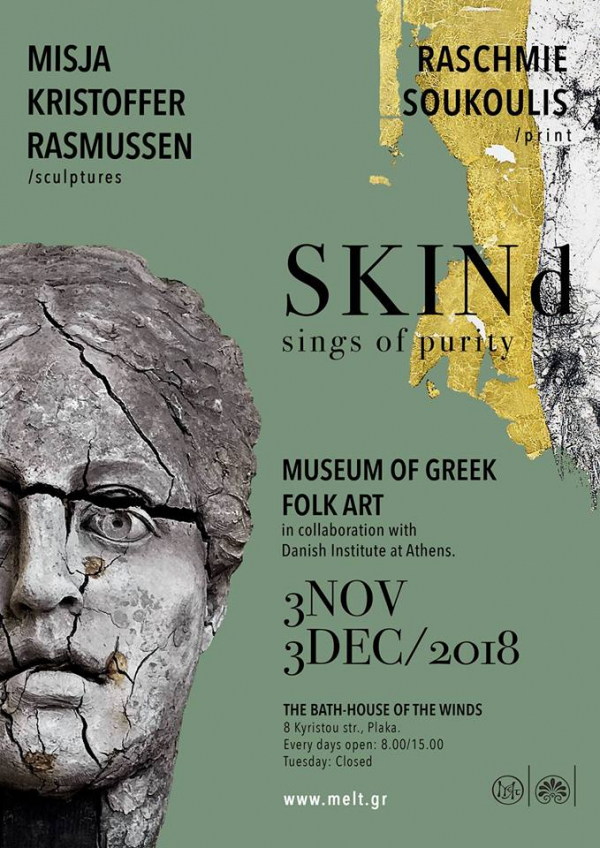 The Danish Institute at Athens is pleased to invite you the opening of an art exhibition on 3 November 12 noon at The Bath House of the Winds.


The exhibition is the end result of the Danish sculptor Misja Kristoffer Rasmussen's collaboration with The Danish Institute at Athens. Here the artist had the opportunity to intensify his research: "Step by step, layer by layer, I learned to scratch under the contemporary concrete skin of Athens: the city gradually taught me how, and when to discover and rediscover my inspiration."

"At first sight Misja Kristoffer Rasmussen might be taken for a nostalgic imitator of classical art, an interpreter of the image, intent on reproducing the stylistic features of Greek statuary with painstaking precision; but only an absent-minded observer could fail to miss the modernity at the soul of his inspiration." (Prof. Cosimo Strazzeri, art critic, historian)

Misja Kristoffer Rasmussen has chosen to invite the young Greek artist Raschmie Soukoulis to participate. For this exhibition she has created a set of visual voices that unfold in the historical space of the Bath House of the Winds narrating a single story through three sections.
EVENT INFO
When

:

03 Nov 2018 - 17 Nov 2018

Where

:

The Bath House of the Winds 8 Kyrristou street, Plaka

Title:

Danish Institute of Athens - SKINd Signs of purity

Email:

info@diathens.gr

Contact Number:

21 0324 4644

Website:

diathens.gr/