How To Register For Paperless Prescriptions In Greece
by XpatAthens
Thursday, 25 February 2021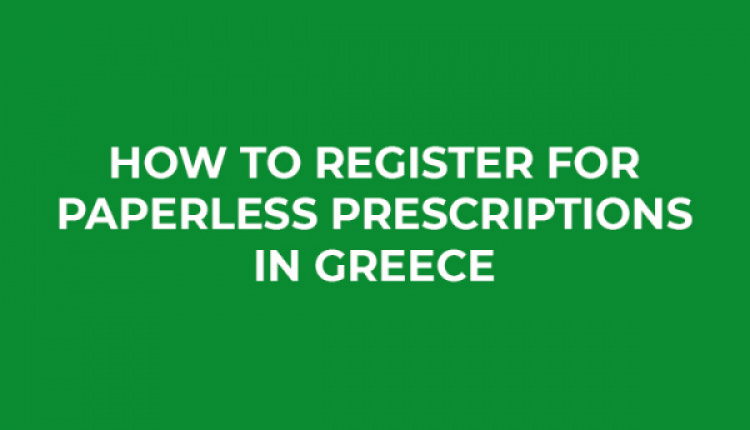 Paperless prescriptions have greatly contributed to modernizing the Greek health system by replacing handwritten prescriptions with a digitalized operating platform. The platform covers the prescription of drugs and lab test referrals, helps with the process of monitoring requests and the payment of beneficiaries.

The prescriptions generated by the referring doctor are stored in the national database from where they can be accessed by pharmacies and medical labs for execution.


On the patient's side, an electronic prescription replaces the often illegible handwritten order, making it easier to renew prescriptions while minimizing risks of misreading the doctor's instructions. Furthermore, paperless prescriptions help reduce the complexities of prescription insurance coverage and ensure that patients' records are kept up to date.

This new service is provided by the government portal gov.gr. Once you activate the service, you will start receiving the details of your prescriptions or examination referrals by SMS or e-mail on your mobile phone and not in hard copy. By registering you can also receive updates via SMS or email for your medical appointments.

---
Even though the platform is in Greek only, this detailed downloadable guide explains the steps for English speakers to easily complete the registration process.


---
Activating The Service
To receive paperless prescriptions you need to activate the service and choose how to receive your prescriptions (mobile phone and/or e-mail). This activation is only performed once, but separately for each member of the family. This process will replace printed medicine prescriptions and/or examination referrals with intangible prescriptions, and in some cases will also minimize the need for visiting your doctor.

To activate the service, you will need:


• Your TaxisNet passwords
• Your Greek mobile phone number and/or your e-mail address
---
XpatAthens is grateful to
Insurance-Greece
for being a
Silver Partner
and supporting our efforts to connect and inform the international community in Greece.


Insurance-Greece is an online insurance advisory portal focused entirely on ex-pat insurance matters in Greece. They do not have call centers and never send automated email replies. An actual person deals with your insurance needs at all times. Whatever your insurance plan, an Insurance Advisor is there for personal advice! You will have an experienced insurance advisor assigned to you so you'll always have someone to talk to regarding your insurance needs.