Libraries In Athens
by XpatAthens
Thursday, 10 January 2019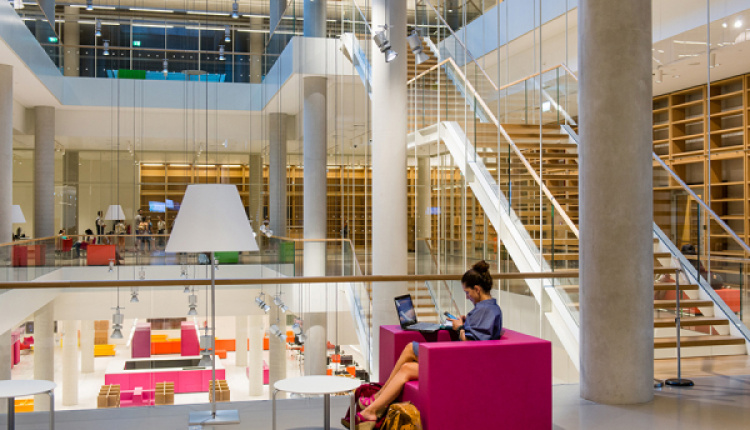 In the beautiful and historic city of Athens where democracy was invented and many sciences were introduced for the first time, books have been a very important part of people's everyday lives.
It is said that the first public library appeared in Greece by the 4th century BC. The philosopher Aristotle was among the first to put together a private collection of books and to have taught the kings of Egypt on how to arrange a library. It is interesting to also note that it is said that the first libraries were not buildings specially designed to house books, but that books were stored on shelves in dedicated rooms or warehouses, and reading took place outdoors while taking a walk or seated under a porch.
(Source: History Magazine)

It goes without saying that books and libraries still have an important part in our daily lives. For this reason we have put together this list of libraries in Athens.
---
Help us build a resource of libraries!
If you know of a library in your neighbourhood,
we'd like to know about it too! Email us at

ideas@xpatathens.com

.
---
National Library Of Greece
A new chapter has begun for the National Library of Greece (NLG), as it has recently relocated to a new state-of-the-art building at the Stavros Niarchos Foundation Cultural Center (SNFCC).
The library's collection, which includes 5.400 manuscripts dating from the 9th to the 19th century, is one of the most extensive in the world. Among others the collection includes a codex of the four Gospels attributed to the scribe Matthew, The Large Etymological Dictionary, a historic Byzantine dictionary; and the first publication of Homer's epics and hymns.
Researchers, students, and the general public have free access to collections of thousands of journals and manuscripts, while they are also able to borrow books through the Library's Lending Department.
Address: 364 Leoforos Syngrou, Kallithea, 176 74
Telephone: 216 8091000
The American Library At The Hellenic American College


The Library houses over 35,000 titles in English and Greek, an online collection of over 250,000 digital books, subscriptions to major academic periodicals databases numbering 10,000,000 articles and a Rare Books collection. 


The library and its resources can be used by:
 
Members of the general public, including students at the Hellenic American Union and students at Greek public universities, upon registering as members of the library (please note that there may be some restrictions on the use of certain collections).


Students in the Hellenic American College programs, including the Hellenic American University's degree programs that are offered at the Hellenic American College via an Agreement of Cooperation.

 Registered members of the library can use the library's digital resources on site at the library, but only Hellenic American College students can access these resources off-site. Exceptions to this policy are made on a case-by-case basis.
Registered members can also use and borrow books from the library's lending collections.


Address: 22 Massalias, Athens, 106 80
Telephone: 210 3680044

The Blegen Library focuses on all aspects of Greece and the Greeks from the earliest prehistory through late antiquity. The collection currently holds more than 105,000 volumes including nearly seven hundred periodical titles (current and defunct), forming a major research library on prehistoric and classical archaeology of the Mediterranean region, and classical languages, history, and culture.

About two thousand readers of all nationalities use the library. The library is non-circulating, and all books must be consulted on the premises. In its field, it is one of the premier research libraries in the world and the best in Greece.

The Blegen library is open to Members of the American School of Classical Studies, and approved visitors.

Address: 54 Souidias, Athens, 106 76
Telephone: 213 0002400


Cervantes Institute Library Of Athens
Since 1991, with the founding of the Instituto Cervantes, the library is the basic information and documentation center in Greece on matters relating to the Spanish Language and Culture.
The library offers modern facilities, over 26,000 publications, 34 reading seats, and 6 computers. Access to the Library is free.
In order to be able to borrow books and use the internet visitors must hold a library member card. To issue a member card, applicants must provide the Cervantes Institute with details (name, address, phone, and e-mail), proof of identity, and pay the corresponding price.

Address: 31 Skoufa, Athens, 10673
Telephone: 210 3634117
Gennadius Library At The American School Of Classical Studies
The Gennadius Library, a treasure trove of books, manuscripts, archives, and works of art documenting the heritage of Hellenism since the end of antiquity, is housed in a stately marble building on the slopes of Mount Lycabettus.

It was named "Gennadeion" in pious memory of the founder's father, George Gennadius (1786-1854) but it is equally a memorial to the founder himself, Joannes Gennadius (1844-1932), for the library that he created is a fitting symbol of his whole career. A diplomat, scholar, and bibliophile, he was always motivated first and foremost by a passionate devotion to Greece.

Joannes Gennadius's collection is the richest private collection of books about Greece. As a collector and bibliophile, Gennadius saw Greece as a continuum from antiquity to the present and the Library he founded still adheres to that vision. His intentions are best described in his own words: "to form a library that represents the creative genius of Greece at all periods, the influence of her arts and sciences upon the western world, and the impression created by her natural beauty upon the traveler."

Over 80 years after the Gennadeion first opened its gates to the public, its garden is a relief to the suffocating city center and the collections are now numbering over 119,000 volumes and continue to increase rapidly. New acquisitions are classified according to the original system devised by Joannes Gennadius with some minor changes and additions to the class numbers in order to encompass a large number of new books and more current subject divisions such as the collection of children's books.

Address: 61 Souidias, Athens, 106 76
Telephone: 210 7210536

Italian Cultural Institute

The library of the Italian Cultural Institute opened to the public in 2007. The library offers books related to literature, cinema, theater, linguistics, music, history, politics, journalism. It is available to readers some of the major Italian magazines and newspapers.
In order for someone to borrow books, they need to become a member. Membership is open to everyone residing in Athens by showing their identity card or their residence permit. Each member can borrow two books at a time.
Address: 47 28is Oktovriou (Patission), Athens, 104 33
Telephone:
21
0 5242646
The Infant –Toddler Library Of Athens
The Infant-Toddler Library of Athens is located in the Park for Children and Culture and is the first library in Greece exclusively for young children.
The library is divided into two sections. The first section is addressed to very young children (0-3 years) while the second section is addressed to older children (3-6 years) and also has a small auditorium in which various events take place.
The library holds a substantial collection of Greek and foreign books, its services are free, and books may be borrowed by all children residing in Attica.
The primary purpose of the library is to familarize young children with reading and the library experience. The first Greek library for infants is designed to be a friendly and hospitable place for young children and their families.
Address:
Trifilias & Lakonos 9, Athens, 115 24
Telephone: 210 8829735

Lilian Voudouri Music Library Of Greece
Designed and organized to international standards, the Lilian Voudouri Music Library has been housed at The Athens Concert Hall since 2007. It is home to an ever-expanding library of works on music and other arts. The collection is enormous, and growing steadily, with a wealth of books and records featuring western music, as well as all manifestations of music in the Greek world – ancient, Byzantine, folk music, popular and art music, rembetika, etc.
The material housed in the library also includes archives of composers, rare collections, jazz and examples of music of traditional cultures from all around the world. The range of subjects covered now extends far beyond music, with important collections on ancient Greek art, theatre, literature, philosophy and other subjects.
The library has more than 63,000 books and musical scores, 22,000 volumes on microfiche, 400 periodicals, 10,000 sound recordings and a wealth of other audiovisual material. There is also access to 150 digital publications and multimedia resources in various areas, rare books, concert programmes and numerous manuscripts.
Housed in its new facilities, the Lilian Voudouri Library provides its services and materials free of charge, playing an active role in music education and research in Greece through its seminars and services.
Address: Vasilis Sofias Street & Kokkali, Athens, 115 21 – Access from the The Athens Concert Hall
Telephone: 210 7282778
Central Library Of The Municipality Of Athens
The Central Public Library of Athens is one of the oldest libraries in Greece; it was founded by the first Mayor of Athens, Anargyros Petrakis, in 1835. The library's collection includes rare editorial material and consists of 55,000 titles various themes books, newspaper archives from 1863 to date, 900 magazine titles from 1834 to date, Government Gazettes from 1833 , as well as photographs of the history of the city of Athens. Available to adult readers, there are two bright and comfortable reading rooms with free internet access.
Address: 2 Domokou, Athens, 104 40
Telephone: 210 8846021

National Βοοκ Centre Of Greece

A private non-profit entity established in 1994 by the Ministry of Culture to implement national policy to promote books. Publishers, authors, translators, librarians and booksellers are all involved in decision-making and work closely to achieve the centre's objectives. EKEBI is subsidised by the Ministry of Culture.
Its objective is to play a coordinating role among these players, to create new structures to support books, to offer information and support the players involved, to record new developments in the sector, and to make a substantive contribution to establishing a friendly environment for people from the world of books.
Additional Information:
• The library accepts donations of books related to specialization
• Library material is available for use on the premises and for loan
• Books can be borrowed for fifteen days, and may be renewed
Address: 4 Athanasiou Diakou, Athens 117 42
Telephone: 210 9200300
The British School at Athens is a post graduate research institute for Hellenic studies established in 1886. Situated in a green oasis in Kolonaki, the main building houses the library. The library collection covers all subjects relating to the Greek world from prehistory to the present day with an emphasis on art, archaeology, history, epigraphy, archaeological theory, material sciences and Byzantine architecture.

The library comprises more than 70,000 volumes and 1,300 periodical titles, in many different languages. There is a growing collection of digital materials with free Wi-Fi connection throughout the building. Books cannot be borrowed, but local and visiting researchers are welcome to join as Readers. Access is free, however, visitors applying for Reader's cards are asked to provide a letter of reference.

Check the British School at Athens website under events for lectures and seminars open to the public.
Address: 52 Souidias, Athens, 106 76
Telephone: 211 1022820
Filothei-Psychiko Public Library
The Filothei-Psychiko Public Library is housed in a traditional house that once belonged to famous Greek author Kosmas Politis. It holds a sizeable collection of Greek and English books, magazines and newspapers, offers free Wi-Fi, and runs a children's program. The library also hosts an English book club that meets once a month.
Address: 13 Stratigou Kallari, Psychiko, 154 52
Telephone: 210 6724307 & 210 6773484-5
Photo Credit: @EBE_Theophilos Gerontopoulos
---
Help us build a resource of libraries!
If you know of a public library in your neighbourhood,
we'd like to know about it too!
Email us at

ideas@xpatathens.com

.
---