New Building Remains In Western Peloponnese Point To Poseidon's Temple
by XpatAthens
Wednesday, 16 November 2022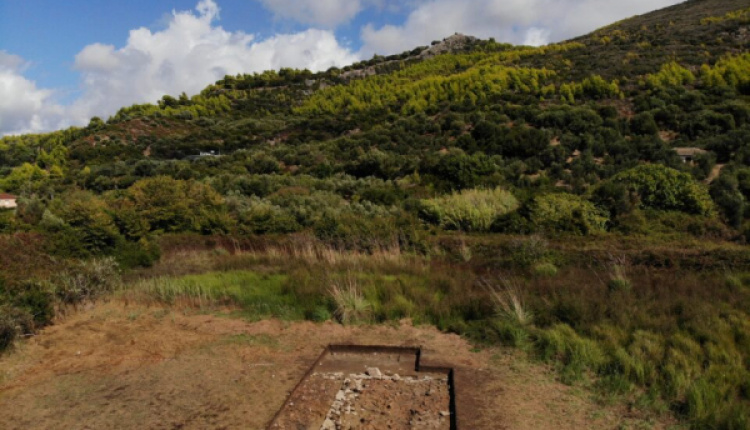 Archaeologists in Greece discovered in western Peloponnese the remains of a temple-shaped building that could be a lost sanctuary of the ancient god Poseidon, the Culture Ministry said.
The excavations completed at the end of September revealed part of the foundation of a large building, 9.40 meters wide, the walls of which are 0.80 meters wide. A dense layer of tiles was found inside. Based on the indications of the geophysical survey and the excavation data, the building was at least 28 meters in length, it had two inner rooms, as well as a "pronaos" and a back building or inner sanctum.
Archaeologists believe the elongated temple-shaped building probably belonged to the sanctuary of Poseidon and may even be the temple itself.
The site of Kleidi, where the ancient building was found, had been suggested by earlier researchers as a possible location of the famous ancient sanctuary, as it is situated in the foothills of the ancient acropolis of Samiko, with a command of the area north of the Lake Kaiafa, on the west coast of the Peloponnese.
According to information provided by Greek geographer, philosopher, and historian Strabo in his Geography, Book 8, the sanctuary of Poseidon was an important cult center of the Amphictyonic league (an association of neighboring city-states in ancient Greece to defend a common religious center) of the cities of Triphylia and was situated near the sea, under the acropolis of Samiko.
Combined with the Laconian style of tiling, the discovery of part of the marble water basin (perrirhanterion) leads archaeologists to tentatively date the building to the Archaic period.
The discovery, which is the result of this year's first excavation season of the five-year research program (2022-2026), is aiming to investigate the topography of the area and identify the sanctuary of Poseidon and the port of Samiko. It is a collaboration between the Ephorate of Antiquities of Ilia headed by Dr. Erofili Kollia and the Austrian Archaeological Institute of the Austrian Academy of Sciences, headed by Dr. Birgitta Eder.
Originally published on:
ekathimerini.com
Main Image: Greek Culture Ministry