Art Athina 2019 Aftermath
by XpatAthens
Sunday, 08 September 2019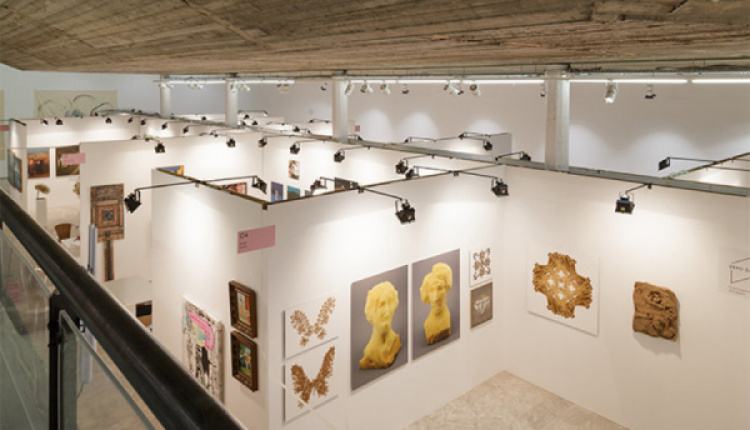 Art Athina 2019 ended on September 16th at Zappeio Hall and the aftermath can only be described as positive, with a great number of visitors and loads of art!

Throughout these 4 days, the biggest art festival in Greece organized by the Hellenic Art Galleries Association and Art Director Stamatia Dimitrakopoulou, managed to impress the public with its artists and galleries. It wasn't just a festival showcasing Greek modern art, but a celebration.

Even from the first hours after the big opening, Zappeio Hall was filled with people. However, the biggest moment was that of the opening where the President of The Hellenic Republic, Mr. Prokopis Pavlopoulos, was present and supported Art Athina mentioning that the organizers have contributed a lot to art, in Athens and Greece in general, but even more to culture. He was also aware of the conditions under which the institution was created and, above all, was kept alive and thrived even during the crisis. For him, cultural creation is an act of resistance against any kind of corruption that threatens man.

Also present at the opening was Mayor of Athens, Kostas Bakogiannis, while amongst the visitors were many high-profile people, such as the Minister of Education and the Minister of Foreign Affairs.


Art Athina will be present once again, for artists and visitors, at Zappeio Hall in September 2020.
The galleries that participated in the 24th Art Athina:
a. antonopoulou.art (Athens), Agathi Kartalos (Athens), Alibi (Athens), Alma Contemporary Art Gallery (Athens- Trikala), Anna Pappas Gallery (Μελβούρνη), Argo Gallery (Athens), Αrt Appel Gallery (Athens), Arusha Gallery (Scotland), Astrolavos Art Galleries (Athens), Cheapart (Athens), Citronne Gallery (Athens), Crux Gallerie (Athens), Donopoulos International Fine Arts (Thessaloniki), ekfrasi-yianna Grammatopoulou (Athens), Eleftheria Tseliou Gallery (Athens), Eleni Koroneou Gallery (Athens), Epsilon Art Gallery (Loutraki), Evripidis Art Gallery (Athens), Gallery "7" (Athens), Gallery Art Prisma (Pireaus), Gallery d' Arte (New Jersey) Genesis Gallery (Athens), i-D Projectart (Athens), Ikastikos Kiklos Sianti (Athens), Ileana Tounta Contemporary Art Center (Athens), Kalfayan Galleries (Athens-Thessaloniki), kaplanon5 art gallery (Athens), Mihalarias Art (Athens), N, Papatzikou Gallery (Veria), PeriTechnon Karteris (Athens), Renatino Gallery (Cyprus), Skoufa Gallery (Athens), Skoufa Gallery Mykonos (Mykonos), Τechnohoros Art Gallery (Athens), The Breeder Gallery (Athens), Zina Athanassiadou Gallery (Thessaloniki).