Chinese Community Newspaper Launches New Section In Greek
by XpatAthens
Wednesday, 30 September 2015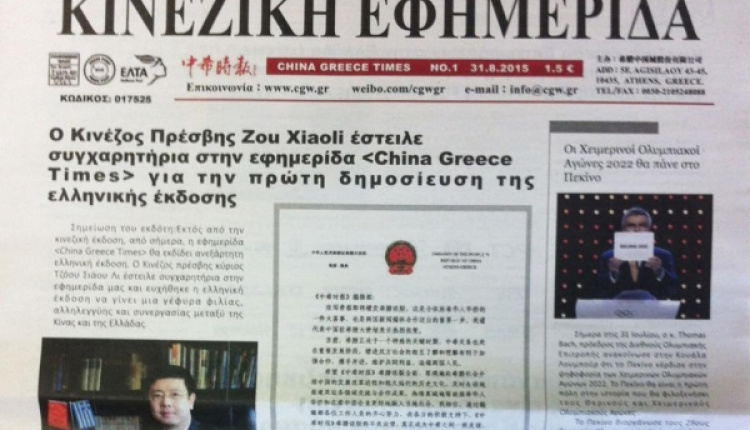 China Greece Times, a community newspaper in the Chinese language published in Greece since 2005, has launched a Greek-language section.


"Our readers used to be Chinese who live and work in Greece but also Chinese visitors to the country," the paper's editor-in-chief, Lydia Liang, tells Kathimerini. "However, as our two peoples had come so much closer over the past two years and the two governments are working closer together, we decided to expand to a Greek audience."


The new edition forms a bridge of communication for many Greeks, mainly businessmen who are interested in expanding their activities to the Asian powerhouse.


"Many Greeks want to know more about the real China by reading Chinese news firsthand," says Liang.


"There are already businessmen who have found partners in China and expanded their activities, such as Coco-Mat with its mattresses, Vianex with pharmaceuticals and Boutaris wines," notes journalist Giorgos Tzogopoulos, an expert on Greek-Chinese relations who is also one of the newspaper's columnists and founder of the website www.chinaandgreece.com. "Language has always been an obstacle and with this initiative we are removing it."


Tzogopoulos admits that the political uncertainty in Greece is making potential Chinese investors hesitate, but in the meantime, "they are waiting and are interested in making acquaintances in the Greek business community."