Niarchos Center Starts To Take Shape
by XpatAthens
Monday, 25 May 2015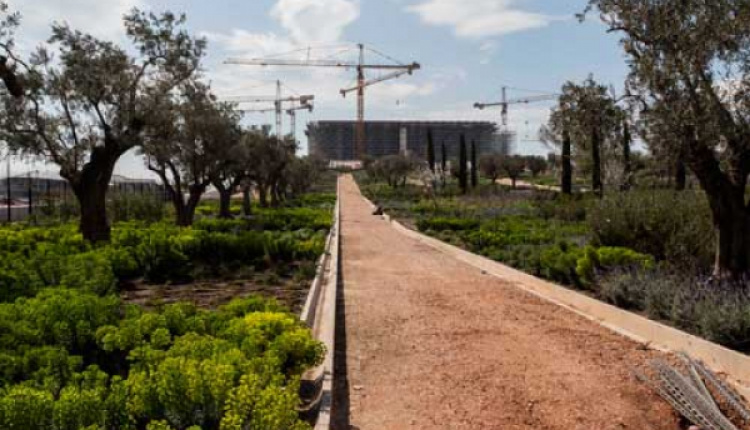 Cultural venue in southern Athens to house National Opera and Library.


Dressed in a hard hat, rain boots and a fluorescent yellow vest for a group tour of the under-construction Stavros Niarchos Foundation Cultural Center (SNFCC), including the new homes of the National Opera and Library, as well as a 170,000-square meter park on the shore of Faliro Bay in southern Athens, I spotted a small detail that made me smile: In the building site's staff cloakroom, where SNFCC supervisors and architects have lockers with their names on them, I was standing next to the one belonging to Renzo Piano. The celebrated Italian architect, in charge of designing the buildings, other structures and surrounding green spaces of the new complex, is closely following each stage of the colossal project's development during his regular visits to Athens.


Two young foundation executives acted as our guides: 40-year-old chief operating officer John Zervakis and 30-year-old assistant chief operating officer Lenia Vlavianou, both of whom have been overseeing the project since its start. They represent a new generation of Athenians set to witness a dream come true during the crisis years.


Inside the former horse racing track's vast space, things are beginning to take shape. Upon first glance the site's green areas – essentially a beautiful Mediterranean garden – look almost ready with only a few final touches missing.
Meanwhile, the construction site resembles a beehive, with its hundreds of workers and cranes in motion. This is where Piano's genius lies: the sense that you're in a place where heaven and earth meet, a gigantic sheltered spot where the city meets the water.


The site's main entrance is on Peisistratou Street. First we passed in front of the 1,000-vehicle parking area before moving on to Poseidonos Avenue, then toward Syngrou Avenue and the new National Opera's facade. An open space called the Agora – to serve as a visitors' reception area – will also make an appearance here, while the new buildings of the National Library extend along Syngrou Avenue. This is where a 400x30-meter canal that will also serve as a flood control will be constructed. The ride continued toward the area where the park begins.


Story by Margarita Pournara