Greek Chef Publishes Book With Support From Kickstarter
by XpatAthens
Thursday, 19 February 2015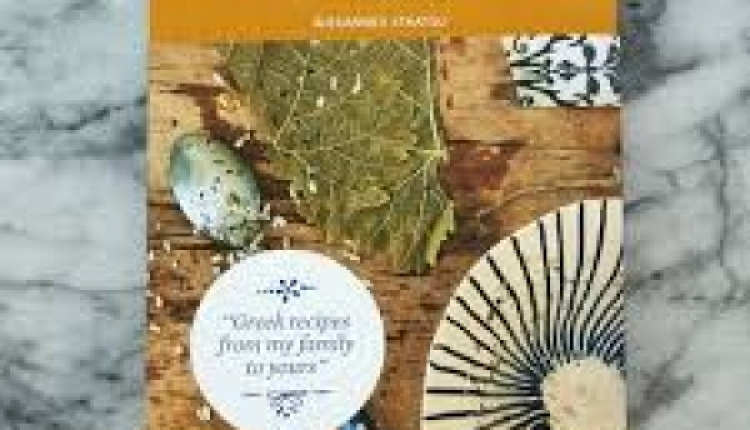 Three-quarters of a cup of creativity, two tablespoons of love, a pinch of anxiety, a few drops of doubt – these are just a few of the ingredients Alexandra Stratou listed in a Kickstarter video introducing what it took to create a self-published cookbook filled with family recipes. A year-and-a-half later, the book has won over fans around the world and has just been printed for its second edition.
"I believe every project has a recipe, and so does mine," she says on the video. "It's a personal recipe, and that is what I'm going to tell you today."
The project was fully funded within seven days of the Kickstarter campaign, and in the space of a month Stratou had raised the 28,753 pounds, approximately 36,050 euros, from 544 backers needed to create the 252-page hard cover book. The book, titled "Cooking to Share," was featured in Kickstarter's weekly newsletter on the sixth day of the campaign, appeared on the Kickstarter homepage as Staff Picked and trended in the Most Popular Project section on the website.
"I never thought that I would have such a huge community supporting me in this venture," Stratou told Kathimerini English Edition. "They were in it with me – when I finished with the Kickstarter campaign, I felt that I am making this book with all these other people."
The first print of the book, which included an order of 1,400 copies in November of 2013, sold out fast, Stratou said. The second printing, which included an order of 1,500 copies, was delivered in the first week of August last year. It is available in select bookstores in the United States and Greece, as well as on Amazon and Stratou's website for 35 euros or 45 dollars.
Stratou grew up in Greece, then left the country for the US to attend Brown University, where she decided to get into cooking during her senior year when she made dinner with her roommate every night. She decided she wanted to go to a traditional cooking school, so for two years she lived in San Sebastian, Spain, learning in the kitchen of Escuela de Cocina de Luis Irizar.
She returned to Greece in 2009 after living abroad for seven years and worked for a catering company and a few restaurants, but said she found the experience of working in a kitchen difficult and didn't like the atmosphere in some cases. Stratou then found a job working for a food website for a year-and-a-half before the effects of the economic crisis made her decide to leave her post.
 To read more, please visit ekathimerini.com.