Crisis? What Crisis? Say Tourists Flocking To Greece
by XpatAthens
Tuesday, 25 August 2015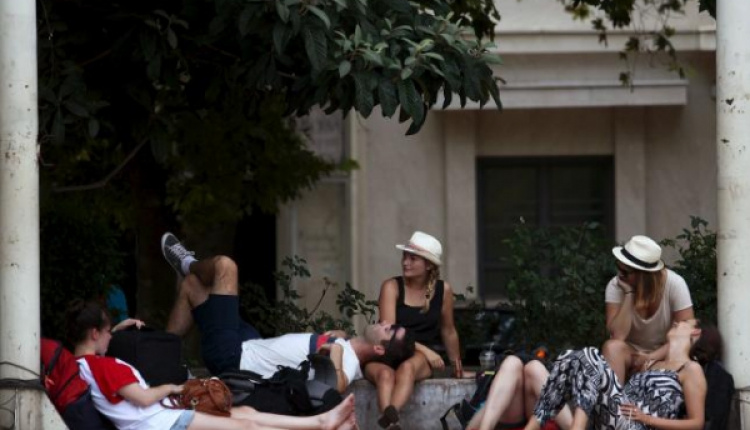 At London's Heathrow Airport, a traveler to Greece is offered a deal by Aegean Airlines: the flight is booked solid, take a different flight and get 400 euros ($440) and a free round-trip ticket to anywhere in Europe.


Some hours later in Athens, a long queue moves slowly forward to passport control, while smiling but harried officials shout out "Santorini", "Mytilene" and the names of other sun-drenched Greek destinations as they try to herd tourists quickly toward connecting flights.


Greece, despite all its economic and political strife, is heaving with foreign tourists.


"On TV they said we can come, there was no problem," said Thibault Larhant, a tourist from Normandy, in France, who was resting at an open air cafe in Athens' Syntagma Square, cooled by a fan spraying water vapor.


"We came to go to the islands, for the countryside," he said, adding that he and his companion had had no problems.


Nearby, another French tourist sat on the "Athens Happy Train", a road vehicle with carriages that swings visitors around the main sights in Greece's capital, such as the Acropolis.


"My friend loves history and culture," said Christelle Fourdinier, from Perpignon, indicating her companion.


Greece's ancient sites and holiday playground islands have been little changed -- from a tourist standpoint -- by an economic crisis that led to the closure of banks and the country coming within a hair's-breadth of leaving the euro zone.


It is just as well, given that tourism accounts for around a fifth of Greek economic output -- perhaps more now that the economy is shrinking again.


"Tourism is ... our heavy industry, it is the main economic source of income today and also the main source of jobs for many Greeks," Minister of Tourism Elena Kountoura told parliament this week.
"Today it offers 750,000 direct jobs, numbers that rise to 1.5 million jobs including indirect tourism-related jobs."


To read more, please visit:
Reuters