The City's Third "Pocket Park" Is In Pagrati
by XpatAthens
Thursday, 25 February 2021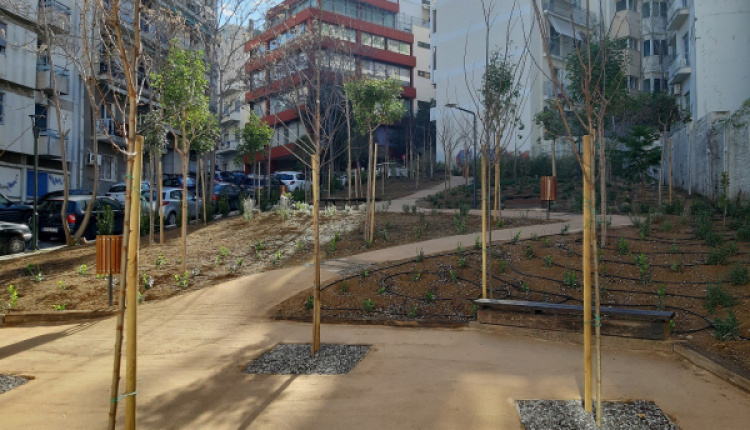 Pocket Parks are a new strategy for the use of public space, especially in areas that are abandoned and/or full of rubbish and rubble - instead a new park is created for the whole neighborhood to experience.
The first such park came in Kypseli and was a test for this environmental upgrade which follows the same strategies implemented in many other European countries as well as in America.
Its successful implementation led to the creation and completion of a second park in Kolonos and this most recent one in Pagrati, makes it the third and largest "Pocket Park" created so far. The creation of this park began with a local citizen taking initiative through the
Adopt Your City program
, which then lead to the coporate sponsorship from P&G, and the local support of Organization Earth (Organosi Gi) - all of these efforts came together to make it possible.
This pocket park in Pagrati was designed with the aim of being an ecosystem that will contribute to the aesthetic and climatic upgrade of the wider area, to the capture of carbon dioxide and to the increase of biodiversity. It is an area of 750 sq.m. with dense planting of more than 1,150 species of plants and trees were placed, including robinia, simidae and native aromatic plants. The impressive number of different plants and the density of their planting, contribute to the creation of an ecosystem with benefits for the neighborhood.
Most of the park's construction has been made from reused wood, such as railway sleepers, while a sustainable water drainage system has been installed to enrich the aquifer and irrigate the trees. The lighting of the park is produced by autonomous photovoltaics aiming to reduce light pollution and illuminate at 100% in the first hours, then at 80% for four hours and yield 25% by morning. Walking corridors, seats and bicycle seats were installed in the park and water supply was provided for visitors as well as for the birds and animals of the city.
"Athens has been under a lot of pressure all these years, especially during the pandemic. We have put forward a plan to create space for Athenians. Space that we need for everyone to live with dignity in their neighborhood. It is not only the environmental benefits that the city acquires but also the creation of places that have a social character. "Each corner should have its own breath, its own green reference point and, finally, to bring to light areas within the urban fabric that over time had become a burden for the neighborhood." said the Mayor of Athens Mr. Bakoyannis.
---
XpatAthens extends a warm thank you to
This Is Athens
and the
City Of Athens
for sharing news and inspiring stories about how Athens aspires to be a clean, friendly, and welcoming city to live in.