The Birth Of Democracy In Graphic Novel Form
by XpatAthens
Friday, 08 January 2016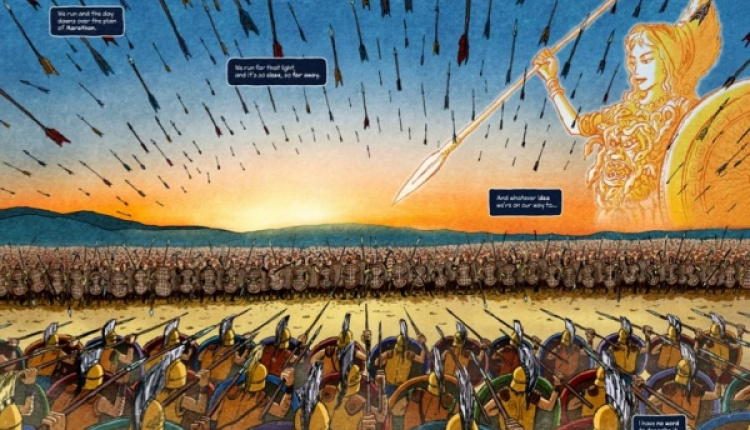 Low voter turnout, the growing popularity of the far-right, tax hike upon tax hike, widespread disappointment among the citizenry: This is democracy under pressure, in the country where it was born. The publication of "Democracy," a new graphic novel featuring a broken amphora on its cover, could not have come at a more critical time, launched in the US in mid-September, just days before Greeks headed to the polls for the third time in under a year.


The book describes the establishment of democracy in ancient Greece and was created by the illustrators behind the sensational "Logicomix: An Epic Search for Truth" (written by Apostolos Doxiadis and Christos Papadimitriou): Alecos Papadatos and Annie DiDonna.


The main hero is Leander, who, having witnessed the atrocities of the tyrannical regimes, tries to boost his comrades' morale as they prepare for the Battle of Marathon in 490 BC by telling them about the birth of democracy as he experienced it.


"Oddly enough, none of the pop culture media have dealt with this story. Either because it is somewhat complex or because the applause is always stolen by the achievements of the 5th and 4th centuries BC. So telling it was worthwhile. It is of course about a dark period, the late 6th century BC – there is some confusion in the historical sources, but where research failed to shed light, we used our imaginations," said Papadatos.


The plot was developed with writer Abraham Kawa and the book was first published in English by Bloomsbury, and recently translated into Greek by Politeia. "We decided to go this route so that it could compete in the foreign market first," explained Papadatos.


"Abraham has the rare gift of having one foot firmly in analysis and the other in composition. He is very cultured and is crazy about comics and cinema," said Papadatos. "He also has that annoying habit of knowing exactly what happens in which volume and on what page of Neil Gaiman's 'Sandman' or how many plot twists there are in every issue of 'Batman.' He took the story of 'Democracy' and took it a whole new level."


"Democracy" has received rave reviews in the international media. Science and sci-fi blog io9 has hailed it as one of the best graphic novels of 2015.