5 Greek Islands You Need To See
by XpatAthens
Wednesday, 18 February 2015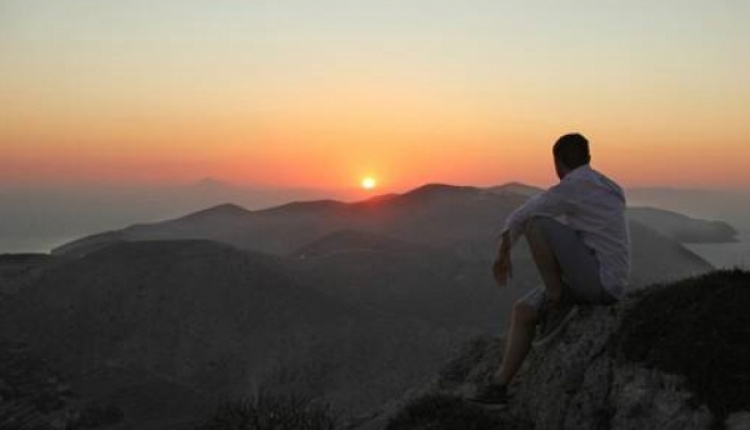 You'd be forgiven for thinking the Greek islands were invented for tourists. Though tranquil, idyllic and remarkably quaint, it was only relatively recently that places such as Mykonos, Santorini and Corfu became destinations for everyone from celebrities to honeymooners. Even mainland Greeks did not vacation in the islands until a few decades ago.
Now the islands have become some of the world's most recognizable tourist destinations. Most visitors flock to the same handful of places every year but there are hundreds of islands to choose from, many of which have maintained their village life. Here are five off the well-worn tourist track...
Folegandros
When an Athens travel agent told me to visit Folegandros I was skeptical. It was late July and boats to other islands were sold out. I hadn't heard of Folegandros and had to be shown it on a map but I booked anyway. It turns out that was the best decision I'd make that summer. Folegandros is a hidden gem in the Aegean, with a cliff-hanging whitewashed village (known locally as hora), rugged but stunning landscapes and beaches hugging the side of high promontories. Visitors are mainly Greek with a smattering of French and Italians. The sleepy town wakes up in the night with tables spilling into the cobblestone streets filled with multilingual diners. Breakfast or dinner in the courtyard of Mimi's restaurant is almost surreal in its charm.

Patmos

In 2009, Forbes magazine proclaimed Patmos the most idyllic place to live in Europe. It's hard not to see why. The island coastline rolls and swirls forming bays and inlets with crystal blue water. Patmos is dominated by the imposing Monastery of St. John the Theologian under which is the cave where John wrote Revelations. The spiritual island has numerous beaches and a surprisingly vibrant nightlife for a place where monks make up a good portion of the population. George's Place at Kambos beach is a good spot to get a drink while soaking up the sun. A visit to the three historic windmills, recently restored by a Swiss banker who vacations on the island, is a must.
Anafi

Anafi is stunning, but chances are you'll overlook it once you realize how time consuming it is to reach. There's no airport and it's a 10-hour ferry ride from Athens . The population? Less than 300. Those who make the journey are rewarded with the island's remoteness, serene beaches and its enchanting white cubist village that tumbles down from the mountains. The footpaths around the island linking the various settlements make it a perfect place to hike during the early morning or at dusk when the sun is not so strong. Take a tour through the island's history on a hike from the hora (main town) to the 8th century BC ruins of Kastelli to the monastery Panagia Kalamiotissa built on Apollo's temple. It also offers gorgeous views of the coast.

Samos

Popular with northern Europeans, Samos is one of Greece's greenest islands known for its Muscat wines. Samians are undeniably proud of the their export and never forget to insist that it's not just for drinking with dessert. Vineyards roll up and down the hillsides of Samos right down to the sea and can be visited on an informal basis. The Viticultural Union of Samos' museum is a great place to taste the wines and learn more about the island. Samos is large and meant to be explored by car, which are easy to rent here. Stay in the picturesque port of Pythagorio with its shiny cobblestone streets and bustling, popular waterfront. The fish restaurants on the far left of the port are the best. The capital Vathy is mostly devoid of tourists but worth exploring on a Friday night when locals dine and stroll along the harbour where working fishermen (and women) tend to their vessels and string nets.

Samothraki

Steeped in mystery and lore, Samothraki is one of Greece's most magical islands. With no natural harbour and no airport, it is mostly visited by northern Greeks – and, according to legend, witches. Rumour has it that the island is frequented by sorcerers and other practitioners of the dark arts, due to its ancient reputation for pre-Hellenic cults and its more mysterious atmosphere compared to the white-washed, austere islands in the southern Aegean. Whether that's true, the island, once described as "taciturn" by author Lawrence Durrell, is lush and mountainous with hidden waterfalls and tropical vegetation. Towering Mount Fengari hovers like a dark cloud over the north Aegean from the Greek mainland and offers impressive views – if you're up for a hike. The island is also home to the Sanctuary of the Great Gods, a pre-Hellenic and Hellenic historical site where the famous Winged Victory of Samothrace statue, now in the Louvre, once stood.

To read more, please visit The Globe and Mail

By Alexander Besant